Signal vs Telegram: Which messaging app wins the battle?
With the announcement of the new privacy policy of WhatsApp people have been shifting to other messaging apps to connect with friends and strangers. Signal and Telegram are the two most popular apps providing the best privacy policies and encrypted data.
Both Signal and Telegram state that they are not under a big tech company therefore they are safer. A non-profit organization owns Signal, while an independent for-profit owns Telegram. But only by this data can we really judge if they are more private? and safe?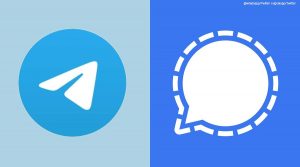 So, here is an in depth look into both these app's privacy policies and exclusive features to help you to pick out the best one for yourself!
Signal vs Telegram: Basic factors
The most effective way of choosing the perfect app for you is to compare the basic features of the.
Here is a over-view of the main features of both the apps for you to go through,
Signal:
Built-in image editing tool.
Strong end-to-end encryption and no user records.
Screen lock PIN within the app.
Sending self-destructing messages.
View-once media (i.e. the ability to set photos to disappear after a single viewing).
The ability to backup and restore messages.
Incognito keyboard feature.
Telegram:
Locking conversations.
Sending scheduled and silent messages.
Sending self-destructing messages on Secret Chats.
Editing sent messages.
Group voice chats.
Unlimited personal cloud storage.
Sharing live location and setting proximity alerts.
Connecting with users near you.
Signal vs. Telegram: Privacy policies
Signal is all about privacy. All the messages will be end to end encrypted and totally safe from the hands of the company owners.
It also includes the self-destruct feature where you can easily destroy a text after a certain amount of time or even after viewing. .
This app stores encryption keys for every chat in your device and everytime it is changes the user has to be notified. This is done mainly to avoid is to leaking of content.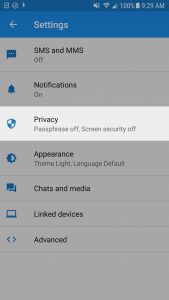 Another interesting privacy feature is that Signal automatically blurs the faces in the image that you send to anyone thereby providing extra protection.
In case of Telegram of Telegram the chats are encrypted but it's an optional feature, it is not a default setting, which makes the app vulnerable to the company to intercept your messages.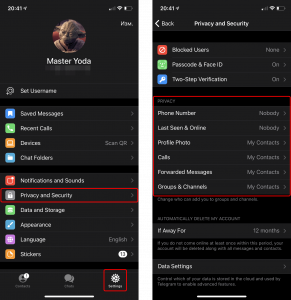 The secret chat feature does make the chat end to end encrypted so to get the most out of Telegram turn the secret text on.
Telegram too offers the feature of self destructing texts which allows you to select the period of time you want the text to be visible.
Advertisements in Signal and Telegram
Neither of these apps promote ads as they make money through data harvesting and not advertising. As of the beginning of 2021, there are no ads or tracking or affiliate marketing through these apps.
Although the CEO of Telegram do have plans on monetizing the app in 2022 to raise funds.
Chat groups and file-sharing
While Signal provides sharing up to 100 mb of data, Telegram offers a whopping 2 gb data sharing ability which is even better than WhatsApp.
Coming to group chats, Telegram allows 200,000 people in one group where as Signal only allows a thousand. Although 200,000 is a little too much but if you need it Telegram has got you.
Who's better in privacy and convenience?
Signal takes the trophy in case of privacy but Telegram has some exclusive features to offer that surely cannot be missed.
If you are looking for more convenience than privacy, Telegram is your way to go. it provides synchronization in multiple devices which Signal does not. You can also make use of the bots that Telegram offers but using more bots decreases your encryption so watch out.
Bots are not allowed is Signal as privacy is their top priority.
User features for Telegram and Signal
When it comes to customizations and enhancing your user experience Telegram has a lot to offer. There are several themes, fonts, sizes, colors to choose from and get the best out of the app.

Telegram creates play-lists edits pictures, conducts polls and quizzes, and even helps you find friends who are in your locality and connect with them. Signal is a much simpler app which focuses mostly on basic texts, voice messages, pictures and it has recently added animated stickers to it's list of emojis.
Signal vs. Telegram: Conclusion
Ultimately, the choice between Signal and Telegram depends on your priorities. There are  pros and cons to both these apps.
If your top priority is encryption and privacy, Signal is the one for you.
But if you want a more interesting user experience and send encrypted messages only on occasions then Telegram it is.