Pro tips to get your Instagram account verified
There's a lot of tittle-tattle around the word verification on social media. So what does it actually mean or signify? By saying that an instagram account is verified, one means that Instagram has confirmed that an account is the authentic presence of the public figure, celebrity or brand it represents. A verified badge appears as a check next to the instagram account's name in search and on the profile. If you want to get this feature you have to have at least 10k followers, as it builds brand awareness.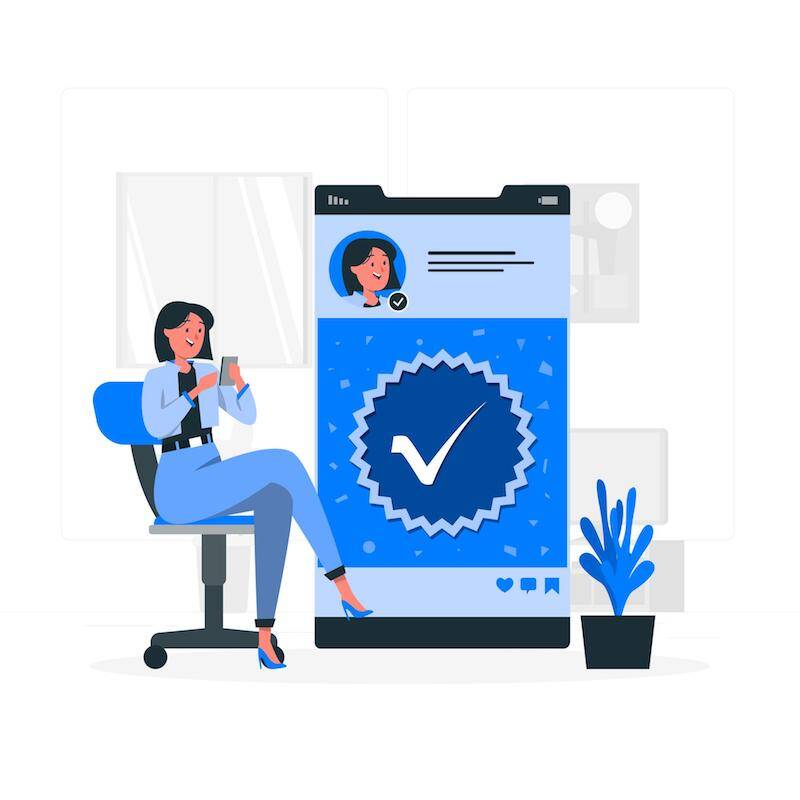 The next question that comes to mind is what's the rave about? With a blue check, people are going to be buzzing to know who you are and what you're about!
Getting verified sends a message to your audience that they can trust your service. It also differentiates your page from users with a similar name and establishes legitimacy when compared to competitors who haven't verified their pages.
Now let's move to the most important question which is how to get verified on instagram? Anyone can apply to get verified on Instagram. That said, instagram is however very picky about who actually gets verified and getting approved is a lot tougher than it sounds. Let's talk about the eligibility. First, you must adhere to the network's Terms of Service and Community Guidelines. On top of that, your account must meet each of these criteria:
Authentic: are you a real person, registered business, or brand? You cannot be a meme page or a fan account.
Unique: only one account per person or business can get Instagram verified, with exceptions for language-specific accounts.
Public: Private Instagram accounts do not qualify for verification.
Complete: do you have a complete bio, profile photo, and at least one post?
Notable: this is where things get subjective, but Instagram defines a notable name as one that is "well-known" and "highly searched for."
Tips to get verified on instagram 
Don't try to buy a verification badge
Anyone trying to sell a verification badge with all sorts of offers and schemes is a fraud and please don't fall for it. Some scammers are pretty effective at appearing legit, so be careful and don't let your guard down. Remember that instagram never requests payment and never contacts you in this process. The only way to get verified is to fill the form. There is absolutely no shortcut to this.
In your application to be verified, you have to be truthful above all else. Use your real name, choose an appropriate category and definitely don't falsify any government documents. If you fail to follow any of these, instagram says that it will not only deny your request, but it may delete your account as well.
Position yourself at a risk of getting impersonated
Instagram uses verification to distinguish imposter accounts from the authentic ones. These could be fan accounts or accounts trying to impersonate you. Instagram goes through it and checks all the requirements and then decides if you should get verified. For standing out among the other accounts, grow a higher follower base and groom your web presence to be highly searchable.
The main disqualifier for people hoping to get their Instagram accounts verified is not being newsworthy. Each Instagram account is verified manually by an Instagram employee, who performs a check for multiple news sources. This way stated by Instagram itself that they review accounts that are featured in multiple news sources. Work on getting your name in the news by sending out press releases, media kits and connecting with local news agencies. Once you've had your name in the media a few times, reach out to larger publications for more visibility.
If you're turned down the first time, try again. Don't lose hope, rather embrace the opportunity and redouble your efforts. Sharpen your instagram strategy, build a dedicated following and earn buzz off the platform. Don't stop.
Conclusion
Keep in mind that Instagram can remove verified badges at any time, and may take away your badge or disable your account if you: advertise, transfer or sell your verified badge, use your profile picture, bio or name section to promote other services or activities that violate Instagram's Community Guidelines or Terms of Use. With great power comes great responsibility. Verified accounts don't get a free pass on being ethical, authentic and upstanding members of the community. Keep grinding.