YouTube has come up with a very unique feature: YouTube Handle. Here's all you need to know
Recently, Google said that handles will soon be available on YouTube. On the streaming platform, users may search, connect to channels, and tag other users using YouTube Handles, which are distinctive identifiers. Recently, the business began emailing YouTube subscribers and requesting that they create their own usernames. Some people are receiving email reminders for the same. Here, we cover all you need to know about YouTube handles.
About YouTube handles
As per YouTube, "A YouTube handle is a new way for people to find you and connect with you. Unlike channel names, handles are unique to each creator, making it easier for you to establish a distinct presence on YouTube."
All YouTube channels will receive an individual handle, which serves as an identification. By November 14, Google will let users pick their handle. Following that, Google will start automatically assigning handles based on users' channel names. Later this year handles will start to emerge on channels. Additionally, they will show up in comments and mentions, the Shorts player, Search results, your channel profile, and other places.
Long story short, it will be an identity card for your YouTube channel. However, the names of these YouTube handles will be unique. In the grand calculus, there might be another user having the exact same channel name as you have. So we suggest that instead of letting YouTube choose a handle name for you, you should should immediately reserve your handle name so no one else can have it.
YouTube handles will not only make it simple for others to locate your channel, but they also will encourage interaction between viewers and producers. Additionally, these Handles may be used all across YouTube in shorts, comments, and mentions.
What will a YouTube handle look like?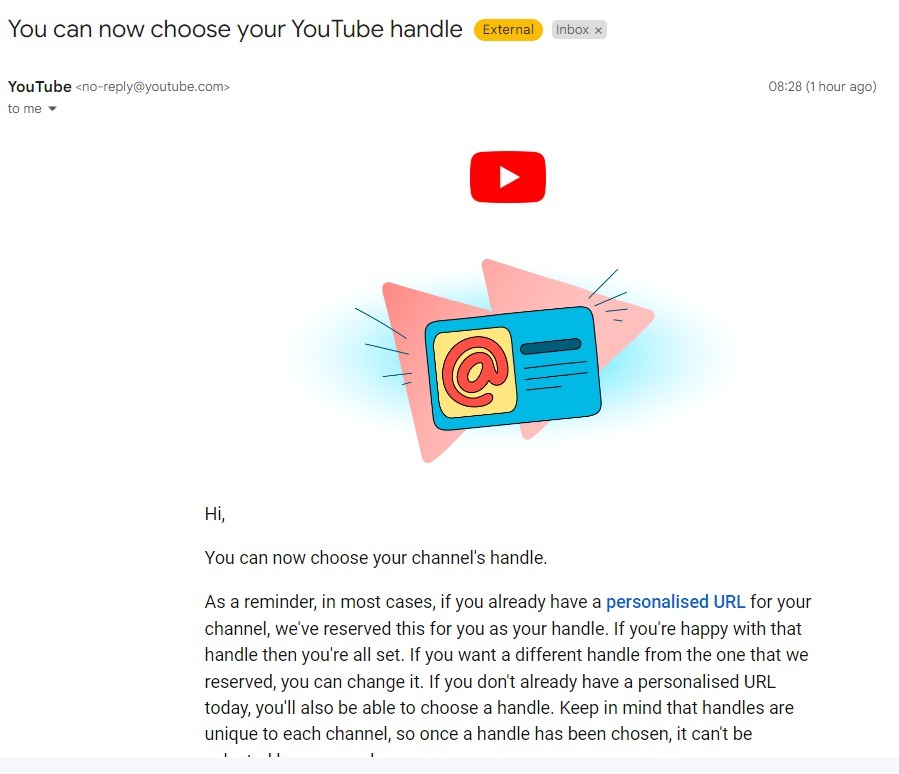 Suppose the name of your YouTube channel is "Science Affairs", then the unique channel URL will be youtube.com/@scienceaffairs. Users may select a handle name by going to youtube.com/handle. If a person wants to alter their handle, they may do so through youtube.com/handle.
YouTube has also started sending emails to all the existing users about the YouTube handle. Additionally, all existing URLs of the current channels will continue to work, but they will be redirected to the new URL having the YouTube handle. You can either tap/click the "Choose a handle" button in the email to accept the recommended handle name or write your own.