What is LOCOTV and how do I get started here?
Loco is India's most popular live game streaming platform, created in India especially for the Indian gaming community. You can now view your most popular gaming footage from any location. It is a forum for all gamers to promote their gaming as well as their opinions on specific plays and strategies.
Every day, an average of 1 million people check in to watch, broadcast, and support live streams on Loco.
Loco gives you the opportunity to witness India's best upcoming and top gamers play top and trending games live. You may follow them, sponsor them, and interact with them. You may also create your own gaming community by becoming a Loco streamer and live streaming games. Along with straightforward and efficient UI, Loco: Free Livestream Multiplayer Games & Esports has gained enormous popularity and is continuing to do so. The ratings which Loco has received on Google Playstore and Apple Appstore and pretty impressive. As far as Windows is concerned, it recently conquered the milestone of 10,000,000+ downloads.
TOP FEATURES
LIVE STREAMING 
On India's favourite gaming streaming site, watch top gamers live on mobile, PC, Playstation, and Xbox. You may watch live video games in high definition, share footage, and interact with other gamers who are watching the video. On your mobile phone, you can watch a game live at any moment during the day.
ESPORTS
On Loco, you can watch prominent esports competitions from a variety of games being streamed live. Top Indian teams and gamers such as Soul, TSM-Entity, SynerGE, and IND along with others, as well as top professional gamers such as MortaL, Viper, Sc0ut, Owais, Franky, Snax, and ClutchGod, will battle for the number one position.
MEMBER EXCLUSIVE LIVE STREAMS
Well-known gamers such as Jonathan, Snax, Neyoo, Slayer, Kratos, Trance, Gyrogod, and many others are associated with LOCO and offer exclusive content to their members. International organisations such as Fnatic and TSM too provide insider content for their members. You can pay the member fee and enjoy such exclusive content.
HOW CAN I START MY JOURNEY ON LOCO
You can begin your journey with Loco and start live broadcasting your games straight from your own setup, at your own home.  Stream your favourite games on the application and gain a following towards becoming India's next biggest eSports celebrity.
Throughout live game streaming on Loco, you can also use Live Chat to communicate with other game viewers and game streamers. In live streams, you can show your support for the broadcasters by giving gold and diamond stickers. You can also leave comments on game video highlights, replays, and other related content.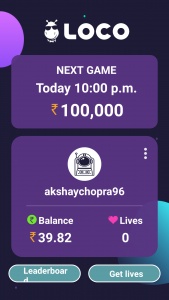 If you're more into casual gaming, check out Loco Arena's Multiplayer Games, where you can battle one-on-one. Why play these games by yourself? Play Carrom, Ludo, Pool, Bull Bash, and a variety of other multiplayer games in real-time with your friends utilising unique rooms and voice chat. To rule the globe, play with friends and strangers. Alternatively, enjoy Single Player Games and put your abilities to the test by competing in tournaments for Gold! 
In 2020, streaming gaming content was watched by more users than HBO, Netflix, Hulu, and ESPN altogether.  Considering Loco is a brand new service, and YouTube is a well-known live streaming platform with billions of viewers. As a result, Google's Youtube is presently Loco's main competition in India.