WeChat Marketing for Business 101
WeChat is a Chinese multi-purpose instant messaging, social media and mobile payment app first released in 2011. It is available in 17 languages with over 1.24 billion monthly active users. It is the largest social network in China and is getting renowned globally too as it ranks as the 6th most popular social media platform worldwide. You might wonder that it mustn't be that significant unless you have any connection with China, but over these years this app has become an important social and business tool for millions around the world.
If you want to use WeChat, you can connect to the platform through your phone using the WeChat app, or through WeChat web. WeChat for web includes WeChat for PC and WeChat for Mac, but you might also hear it referred to as WeChat online or Web WeChat.
It must sound like a regular online space for recreation, but it is so much more than that. Users can send messages, hail a ride, pay for their groceries, book a Covid-19 test, and even access government services like VISA applications, all without leaving the app. No third-party click-throughs or complicated user journeys. Just one very large captive audience and some super sleek, simplified and integrated tech. Sounds amazing doesn't it?
WeChat has some really cool features for its users like:
1. Instant Messaging– It is WeChat's core service. Instant messages can be sent in multiple formats such as text messaging, voice messaging, group chats, broadcast messaging, media sharing., voice and video calls. You can also share your location with your contacts, send each other coupons and lucky money packages, and share files with people in close proximity via Bluetooth.
2. WeChat Moments– It is similar to Facebook's status updates. WeChat users can sync their Moments to Facebook, Twitter and other social media platforms. Here you can share images, text, short videos, articles and music and your friends can react and leave comments.
3. WePay– You can use it to pay bills, groceries, money transfers and eCommerce purchases. WePay includes Quick Pay, in-app web-based payments, QR code payments and native in-app payments which can be accessed when users link their bank accounts to WeChat Pay.
4. Enterprise WeChat– Enterprise WeChat helps users separate their work and social lives. It lets users speed up and organize work communications. Users can keep up to date with work conversations, keep track of annual leave days, log expenses and even request time off.
The other features include WeChat News, WeChat Search, WeChat Channel and WeChat Mini Programs.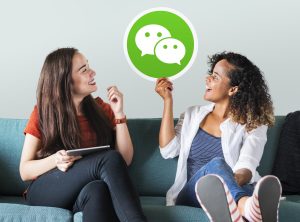 Let us now proceed to how you can tap into WeChat's online business marketing and use it in the best way possible:
You can get started by requesting an official account or partnering with third parties. If you have an Official Account, you can create content on WeChat and directly interact with and sell to your clients, even if you don't hold a Chinese business license. There are two types of accounts for WeChat marketing– Subscription accounts and Service accounts. The Subscription account is designed for marketing but is not open to overseas businesses. Service account is made for sales and customer support.
Gaining the attention of users
Commence by creating content that can be seen in WeChat search and creating engaging mini programs. Gradually set up a WeChat store and ensure that your products show up on WeChat scan. You can also display QR codes linked to your account at the point of sale, on your websites, in physical stores, or in other promotional materials.
Advertise
There are three types of ads available on WeChat– Moments ads, Banner ads and KOL (Key Opinion Leader/Influencer) ads. You can reach out to KOLs, who are bloggers, actors, celebrities or influential people who can endorse or promote your product or service, which means you can access their audience without having to build your own on the platform.
Create a WeChat Mini Program
You can apply for a developer license to create a WeChat Mini Program as a foreign business. Once you're done with your registration, you can head over and use Mini Programs to create apps that are accessible to all WeChat users. Many businesses have incorporated this into their marketing strategy and its definitely worth trying.
Improve your customer support
It goes unsaid how having a great customer service can bring a significant impact to your business and help you engage better with your clients. You'll have to be more active on WeChat and respond to users within a set timeframe or the chat will automatically end if either one of you doesn't respond for 48 hours.
Thank you for reading.