Social Media Marketing – a boon for companies in 2021
What a year 2020 has been! The entire year felt to be like 2 years log however, March still seems like yesterday. The  Covid-19 pandemic has been the major reason for the collapse of several entities. On the other positive hand, it has given confinement to many other contrivances as well with digital marketing being one of them. 
The entire world has come to a halt and domains such as educational institutes, commercial companies, etc have adapted and joined hands with the digital world. Under the hold of a global pandemic and several lockdowns imposed on the people, it has come to no surprise that social media usage and screen time has been significantly rising which has proven to be a major inducement in the successful growth of marketing,  but this time through digital means.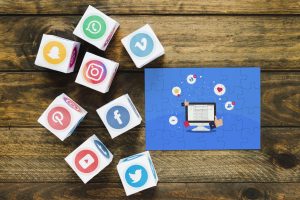 What is Social Media Marketing?
Digital marketing is the promotion of a product through a minimum of one form of e-media via the medium of social media platforms. This method of marketing vastly varies from the traditional form and is far more effective. However, in order for one company to attain success, they have to work through various strategies in order to figure out what works for them and is the best way for the marketing of their product. 
The internet, as it is, has always been an enormous ocean and has given rise to several new openings. It has its share in the ascent of marketing as well as it aids the vendors in promoting their products and giving them a wide reach through mediums such as social media platforms, emails,  Youtube and many more. 
Types of Social Media Marketing
As big and deep as it seems, social media marketing is cost-effective and inherits the ability to provide guaranteed returns on investments provided utilised its potential effectively. The major point that segregates it from traditional marketing is that it enables you to reach targeted and a larger audience. Brands and companies, through their intellect, have discovered multiple ways of promoting their products by making use of electronic media. Some of the methods are listed below. 
Facebook and Instagram marketing

Influencer marketing

YouTube and Email marketing
Tips for creating the best Social Media experience for your visitors
Reply to all the comments on your posts or share anything from your websites as we all know that responsiveness increases more leads.

Set clear objectives: Make certain you comprehend what you're pursuing.

Consistency is key: Post frequently and at a pace that is suitable for you. If at all feasible, plan your postings ahead of time.

Have a topic in mind: To increase participation, select motifs for specific days of the week.

Tell stories: Use corporate storytelling to attract customers on social media.

Do it with zeal, or don't do it at all.

Express it all with your team, including your goals, failures, and successes.

Don't follow the crowd, rather be a trendsetter yourself.
SUMMARIZED PROS & CONS
Social media marketing initiatives have the benefit of simultaneously reaching to a large number of people. Clients, employees, influencers, the media, the public at large, and other stakeholders, such as third-party reviews or industry groups, are all possible targets for a program.
However, these initiatives may introduce challenges that businesses would not have faced otherwise. For instance, whether the allegation is real or untrue, a viral video stating that a firm's item causes people to become ill must be immediately addressed by the firm. Customers may still be less inclined to buy from a company in the future, even if the word is clarified.
CONCLUSION
Given the trillions of people who use social media nowadays, it's understandable why several advertisers and organizations use it to advertise their products and interact with customers.
Despite deciding on a social media strategy for your company may appear difficult, you can prevent becoming intimidated by learning about social media marketing trends and utilising some of the many tools available on the subject. So, to grow your amount of follower base, increase engagement, and raise revenues, begin to work on your company's social media marketing strategy immediately.