New accessibility feature launched by Twitter. Here's more:
Twitter is introducing a new function that will increase user access to social networking sites. The Alt text reminders function, which Twitter unveiled in July, is intended to increase the platform's accessibility for users who use screen readers. The function has only been available to a select few users up until now, but the business has recently begun rolling it out globally. For those who don't know, alternative text, also known as Alt text, is a textual explanation of an image that visually impaired persons can access with screen reader software. Users of Twitter will now have access to the innumerable photographs submitted every day thanks to this new functionality.
Add image description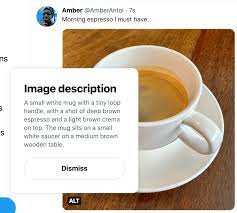 On the Twitter app, select the image that you want to share. Then,
1. After selecting the image, tap on the +ALT icon at the bottom right corner of the image.
2. Type your image description. It is worth noting that image descriptions can be up to 1000 characters long.
3. Tap on Done at the top right corner of the screen.
4. Share the tweet whenever you are ready.
Twitter circle
A recent privacy-focused feature on the microblogging site called Group limits your tweets to a selected circle of individuals. Up to 150 people can be a part of someone's Twitter Circle, and they don't all have to be that person's followers. This feature allows users to send their tweets to a certain group on Twitter first, where only members of that group will be able to view and respond to them. You can exclude individuals from your Circle without notifying them that they have been eliminated if you so want.