How to manage online customer reviews
In the Age of Information, it's no secret that consumers place an enormous amount of value in the opinions of their peers. Customer reviews are essential to the ongoing success of any brand. In fact, a whopping nine out of ten people read online reviews before committing to a product or service. Positive reviews speak for themselves. A glowing testimonial or rating from a customer will shine your brand in its best light—and will help build trust, boost brand awareness, and drive more consumers to your business.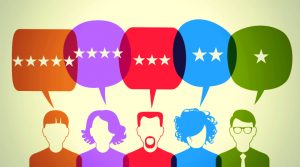 But, in our hyper-connected digital landscape, you've got to take the rough with the smooth. No matter who you are or how good a service you offer, negative and even fake reviews will come your way. There's no use in covering them up, especially given the fact that 60% of consumers will avoid a brand that censors their online reviews. For your marketing and communications to hold any weight, transparency is key. And, that means dealing with public customer reviews that are negative or even fake.
When you get a good review, your brand will benefit from positive press, instantly. Online reviews actually influence 67.7% of buying decisions. But, good reviews are, well, good for business—and you can really maximize their value even more.
Use your reviews for social proof
Typically, humans will conform to the actions or suggestions of others, often based on their reviews or referrals—that's social proof in a nutshell. Customer reviews or testimonials are one of the most potent forms of social proof. So, if you display your best online reviews in the right places, you're likely to build consumer trust, attract more people to your business, and enjoy a healthy level of commercial growth.
To maximize your good online reviews with a good old dollop of social proof, here are a few tips:
Add testimonials, reviews, and ratings to your paid ad communications to validate your performance as a brand and encourage more engagement.
Place a review tab or widget to your website so people can view your positive reviews and feedback with ease. Make them almost impossible to miss!
Share positive consumer testimonials along with attention-grabbing imagery across your most-engaged social media platforms.
Publish positive testimonials on your website where necessary. Your homepage, about us page, product pages, and landing pages are good places to throw positive customer quotes or feedback into the mix.
Earn more positive customer reviews
Another way to maximize from good customer reviews is to earn more of them. Not only will your customer feedback serve as vital data for improving your communications and service, but the better the reviews you get, the more you will benefit.
From signing up to popular review platforms to incentivizing your customers to leave reviews across platforms in exchange for free shipping or a discount code, there are many ways you can earn additional positive feedback.