How to get verified on Twitter?
The blue tick of Twitter, yeah. The certified blue tick is one of the most important forms of legitimacy you may have when it comes to this behemoth of a social media network. Possessing the blue tick automatically makes other users understand you mean business, whether you're an influencer, public figure, blogger, or just someone with something to say.
If you want to develop your audience, broaden your exposure or your company, and your self-image, and have greater control over your profile, such as being able to filter your notifications to only other verified accounts, increasing your legitimacy in this way is critical.
How do we do it?
The blue tick isn't tough to obtain; it's simply an application process in which you must ensure that you meet all of the requirements and then wait for your application to be granted. Here's how to do it:
Step 1: Add your phone Number
Make sure you've added your phone number to your profile if you haven't already. This is a form of verification procedure that verifies that you are who you claim to be.
Step 2: Add your email address
Obviously, you should have previously done this, but if not, you'll need to add and validate your email address to your profile. You'll get an email with a link that you must click to confirm this.
Step 3: Complete your profile 100%
You can't get certified on Twitter unless your profile is completely filled out. This entails going over every detail of your profile and double-checking that all of the information is correct.
Add your name

Fill in your Bio

Add your birthdate

Enter your location

Upload a profile picture

Add the link to your website
Step 4: Set your Tweets to Public
If you wish to be certified on Twitter, you must make your profile public. You can do this by navigating to Settings > Privacy and Security and unchecking the box labelled "Protect your Tweets." You'll be eligible to request the famous blue tick once you've accomplished all of the requirements above.
Step 5: Apply for verification
Just log in to your account and follow the on-screen prompts, then wait for a response. This could take anywhere from a few days to a week, but once approved, you'll see a blue tick beside your username and be ready to go!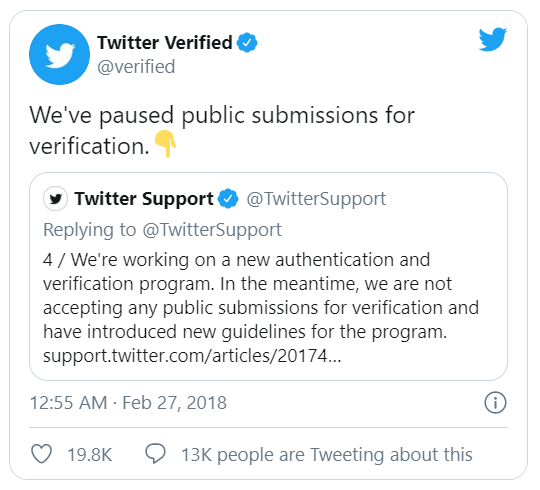 Kindly remember that if Twitter gets a large number of verification requests, the application process may be halted and further requests will not be accepted. If this occurs, regularly check back to see when the application process reopens so you can make your request.