How Did Bailey Sarian Reach 2 Million Views Per Video?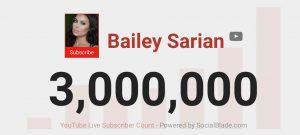 You must be wondering how someone can become so famous and have such a large following simply by uploading videos and updates to their social media platforms. Bailey Sarian is one of them; she is a social media influencer who hosts a YouTube series called Murder Mystery and Makeup in which she discusses true crimes while applying her makeup. She began her career on Instagram and then moved on to a YouTube channel in 2013. Bailey Sarian offers some advice on how to grow your own audience and be popular and shares her experience as well.
Her First Murder Mystery Makeup Experience
She described her first murder mystery makeup experience, in which she applied her makeup while narrating a criminal mystery to her audience. She wasn't sure how her fans would react, but it turned out to be one of her channel's most popular videos, with over 6 million views. She had no idea that her first ever makeup mystery would turn out to be life changing. She then got a hint as to what her audience liked and began making videos of herself doing her makeup while telling a new criminal story to her audience.
Be Patient
Your first video may not be what you expected, and you may even receive negative feedback, but accept it as part of the journey and never let it discourage you. Things take time, so be patient.
Make your Live streams engaging
Engage with your audience in the first few minutes of your live broadcast, as they are your loyal subscribers. They are the people who genuinely support you.
Stay confident
You just need to be confident about the content that you are sharing, focus on it, and nothing else will matter.
Be Grateful for what you have
Always thank your subscribers and show gratitude to your community. They are also responsible for all your achievements.
You never know what life will throw at you next, so keep trying and staying positive. If you put your heart and soul into whatever you're doing, you'll achieve far more than you imagined.
;