Are YouTube pre-roll ads worth investing in?
It's critical to broaden your marketing approach and maintain a competitive edge in today's digital world of rapid change and upheaval. YouTube has stormed in with its pre-roll ads feature which has been of immense advantage to marketers. Let's have a look at what this feature actually is.
What are these pre-roll ads?
Pre-Roll Ads on YouTube are amongst the most potent, yet underappreciated, branding tool on the internet currently!
You could think of Youtube pre-roll advertisements as the attention-grabbing relative who wants to make their presence acknowledged as soon as they enter the room, given they are part of the Google ads platform community. In a sense, a pre-roll ad is a small video advertisement that runs ahead of the main video once you click on a YouTube video. For the ad to appear, the channel's monetization must be activated.
Pre-roll ads on YouTube symbolise the social side of Google advertising, as they deviate from a primarily search-driven approach.
Should you invest?
A simple straight answer to it would be: Definitely, yes. You might be wondering what makes this type of advertising so effective. It all ultimately boils down to Google's extraordinary algorithm to reach out to the right individuals at the right moment for marketers.
The following are two distinguishing characteristics of Youtube pre-roll ads:
In the lower-left of the video player, there is a 5-second countdown until the ad becomes skippable.

On the bottom left-hand side of the video player, there is a call to click. When you tap on it, a new tab opens with a landing page of the advertising brand.
How do these ads work?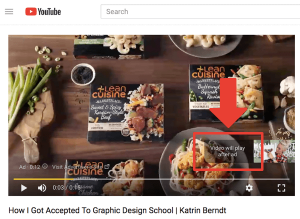 For your better understanding, let's consider the following scenario: you operate a health and fitness program and you're presently providing a free trial for new recruits with an upgrade at the tail end.
Now, here YouTube pre-roll ads can help you by giving you the ability can target your adverts to particular YouTube videos.
For instance, you can advertise your free program to folks who are already looking for "workout sessions for beginners" or a "home workout programmes."
What are the different types of pre-roll ads?
There are three different sorts of pre-roll adverts to be conscious of on YouTube.
Skippable: Here, after the first five seconds of the ad, the viewer gets to choose whether to go on to the main video or continue to watch that particular ad.

Non-skippable: These ads are typically 15 to 20 seconds long in total, however, they are not skippable. Both of these types of pre-roll commercials work on a pay-per-view basis, relying on the user to either watch the entire ad or click through to the landing page, for at least 30 seconds.

Bumper ads: The video is 6 seconds long and cannot be skipped. Bumper ads are typically employed by national advertisers and operate on a pay-per-1000-views approach.
The potential for Youtube to play a role in this is enormous. Longer video formats provided by a channel that has the ability to reach a completely new target audience will pay off. Get in now before it's too late.