5 Examples of UGC: Why Brands Need It?
One of the most successful forms of marketing for a very long time is word-of-mouth advertising. In the modern digital world, it typically occurs through user-generated content and drives $6 trillion in annual spending. What examples of user-generated content can you find, though, to get you motivated?
To ensure the efficacy of their campaigns and to market their products, the biggest brands in the world today are increasingly running UGC campaigns. These days, all these well-known brands are reaching out to common consumers via social media and requesting that they come up with original ideas and share them with the world. Top brands use content marketing to increase their lead-generation efforts for a variety of reasons. And what could be used to market their products more successfully than user-generated content?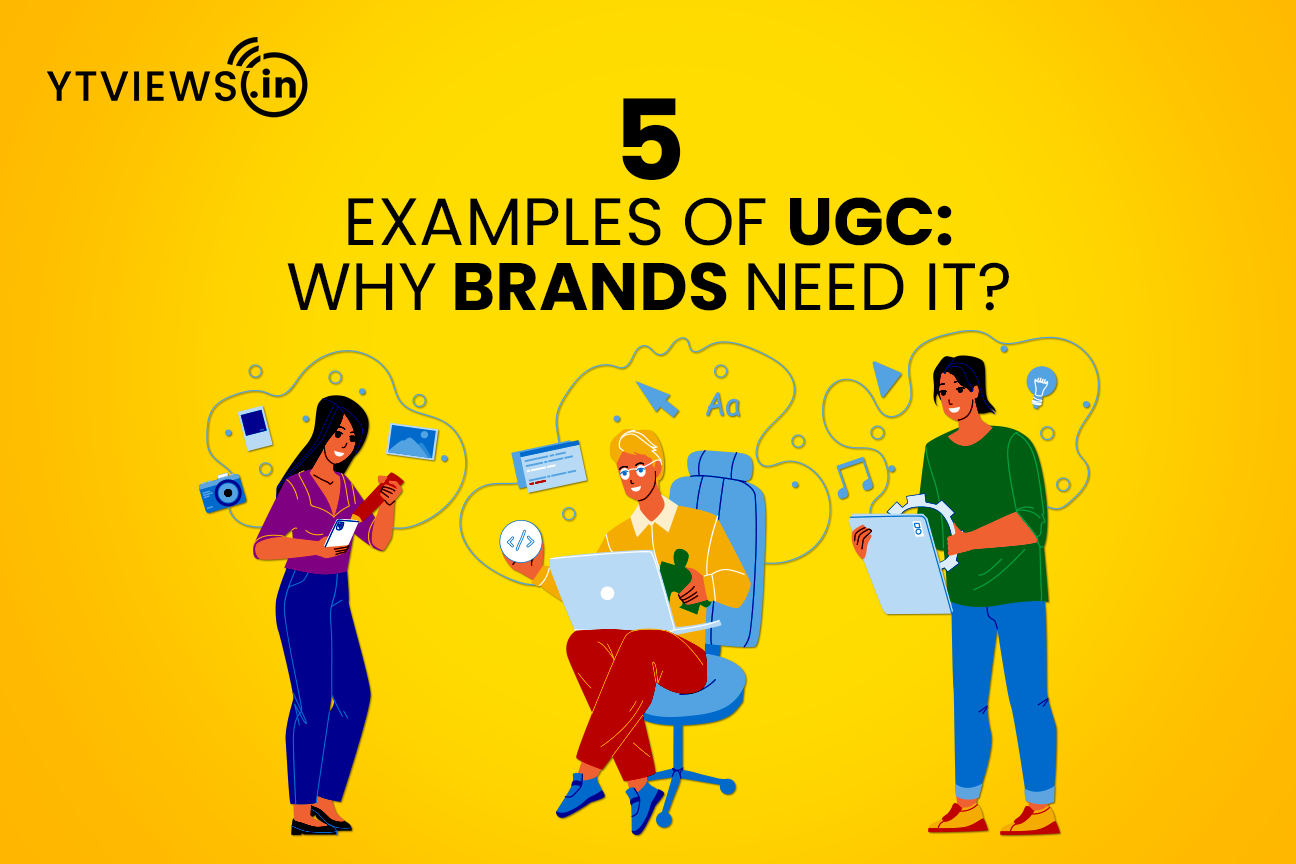 Here is a post for you that highlights some of the best examples of successful user-generated content campaigns that really inspired their general communities~
User-Generated Content: Why Brands Need It?
Customers trust one another a lot more than they do the brands themselves. Actually, according to a number of surveys, more than 60% of people believe reviews or images posted by other customers are more authentic than those taken by the retailer or manufacturer. This demonstrates, even more, the value of user-generated content for these brands and businesses.
In order to create engagements among various communities for brands' goods or services, user-generated content transforms a devoted, enthusiastic customer into an automatic brand advocate. User-generated content's fundamental premise is that loyal supporters of a brand will offer more sincere recommendations to other communities and customers to aid in their purchasing decisions.
User-generated content (UGC) is any type of content, including text, images, and videos that was written and published by unpaid authors. Brands also benefit greatly from it. Social media posts by customers about a brand have an impact on the purchasing decisions of their followers. 85% of people believe user-generated content (UGC) has more influence than content created by brands themselves.
Let's look at some examples of user-generated content and explore what makes them so successful.
1. Coca-Cola: The marketing department at Coca-Cola came up with the concept to launch a "share a coke" campaign via social media and advertising. In a matter of hours, the general public worldwide has begun to respond very favourably. In 2011, Coke decided to print 150 of the most well-known and common names on its bottles, urging consumers to "share a coke" with those they care about. This was the first time that idea had occurred to Australians.
Based on each nation's culture, traditions, and history, the campaign was rotated through those nations. And the "share a Coke" campaign was an instant success after this idea was warmly received and people enthusiastically began posting pictures of the bottles on social media. Later, not just in Australia but in more than 80 other nations worldwide.
2. Netflix: They have made the decision to promote their series through some imaginative User Generated Content (UGC), which was inspired by the name of Netflix's original series "Stranger Things.". Typically, Netflix heavily promotes fan posts using straightforward hashtags, usually the show's title, in order to let people know about upcoming premieres.
In one of these campaigns, Netflix used the hashtag 'Stranger Things2' to advertise the upcoming second season of the television show. Because of this, Instagram users who were interested in finding out more were persuaded to visit Netflix's page again. Thousands of people were amused by this concept, which inspired them to post pictures of bizarre things they encountered in daily life with the show's hashtag or tag. Netflix generated nearly 1 million viewers in just two weeks using those original UGC pieces that were shared globally.
As a result of the overwhelming response, they realized they could profit from similar user-generated content in the future and frequently shared these campaigns. In a recent campaign, they reposted some influencer content on their Instagram page, including "Baby Barb.". Additionally, producers of speciality waffles and eggs, like Eggo, used the series title to increase engagements. These UGC undoubtedly had a significant impact on Netflix's social media strategy.
3. Adobe: A creative campaign for talented designers and artists using a hashtag was considered by the design software company Adobe. They began an Art Maker Series in which creative designers were invited to showcase their abilities with any of the Adobe products, including Illustrator, Photoshop, etc., and share their original artwork. in a display of quick-moving videos. After that, Adobe used this shared UGC to promote user reviews, products and features, and other expert endorsements. Adobe has attempted to demonstrate its design abilities through such UGC.
They also use the hashtag AdobePerspective, which allowed privileged designers to freely share their original works and those of other users. Adobe saw this as a fantastic opportunity to interact with members of various other communities. Many first-time users might struggle to understand what their software is actually capable of doing until they see a sample of this user-generated content (UGC). This user-generated content will therefore serve as a way to showcase the vast capabilities of Adobe products.
Adobe is a great example of UGC, and its campaigns frequently feature other talented users. They also value moral character and fraternity culture. This helps them stay ahead of the competition and gives viewers the impression that their UGC is genuine and real.
4. Apple: Nothing is more sincere and persuasive than your customers endorsing the product they adore. After discovering users' dissatisfaction with the typical camera's capabilities for photos taken in low light, Apple quickly came to this realization. Apple immediately started the ShotOnIphone campaign to restore their lost faith in the iPhone's camera capabilities.
Because of this problem, Apple was losing a lot of supporters. Apple was quick to address this issue and gave this campaign a lot of importance as a result of the need to quickly win back the trust of its users. The campaign encouraged amateur and expert users to use their iPhones to take photos in low light and post them online.
Then, under the campaign name "Shot on iPhone," those stunning low-light photographs were uploaded to YouTube. The majority of the campaign's low-light images, which were captured by ordinary users using the iPhone's lens, were among the most magnificent ever seen.
By utilizing such creative user-generated content, Apple was able to win back the trust of its sceptic users while also cutting costs on production, development, and the execution of its marketing strategy. When Apple used those users' visual content in Apple's advertisements around the world, it made all of them feel incredibly special.
The long-running UGC campaign also increased user participation in the Apple community. all users were made to feel included in the community. This improved Apple's standing among its customers. Undoubtedly a master plan has been in place for the last three years to make effective use of user-generated content campaigns.
5. Starbucks: Starbucks launched a contest in 2014 with the hashtag "WhiteCupContest" to encourage its customers to doodle artistically on their white cups. Starbucks declared that a limited-edition template for its cup design would be based on the winning white cup drawings submitted by customers. The customer's interest in this contest grew significantly as a result. It received a fantastic response in just 3 weeks, with users sending Starbucks approximately 4000 drawn cups as a result.
Given the massive success of the WhiteCupContest, Starbucks created a new difficult contest for its ardent customers in 2016. This time, the world's largest coffee company created a competition under the hashtag dubbed RedCupArt challenge. Due to the significant social media activity that this has caused for Starbucks on Twitter and Instagram, the company has also received positive customer feedback.
These two UGC campaigns served as ideal case studies for how to leverage minimal resources to have a significant social media impact. Moreover, these competitions were an excellent publicity gimmick for Starbucks which succeeded like magic. The fact that Starbucks values user-generated content show how much it values customer feedback. Another factor in the success of these campaigns using user-generated content is how simple it is for anyone to participate and how closely it relates to the customers' preferred goods.
Conclusion: As consumers seek out the recommendations of their competitors, the aforementioned statistics already encourage businesses to engage and personalize their connections with their clients by utilizing this reliable content. Utilizing user-generated content is actually the most ideal and economical choice in today's social media-driven world. Not to mention how it can increase instant outreach, strengthen customer trust, and improve brand authenticity.