40 Social Media Tools You Must Know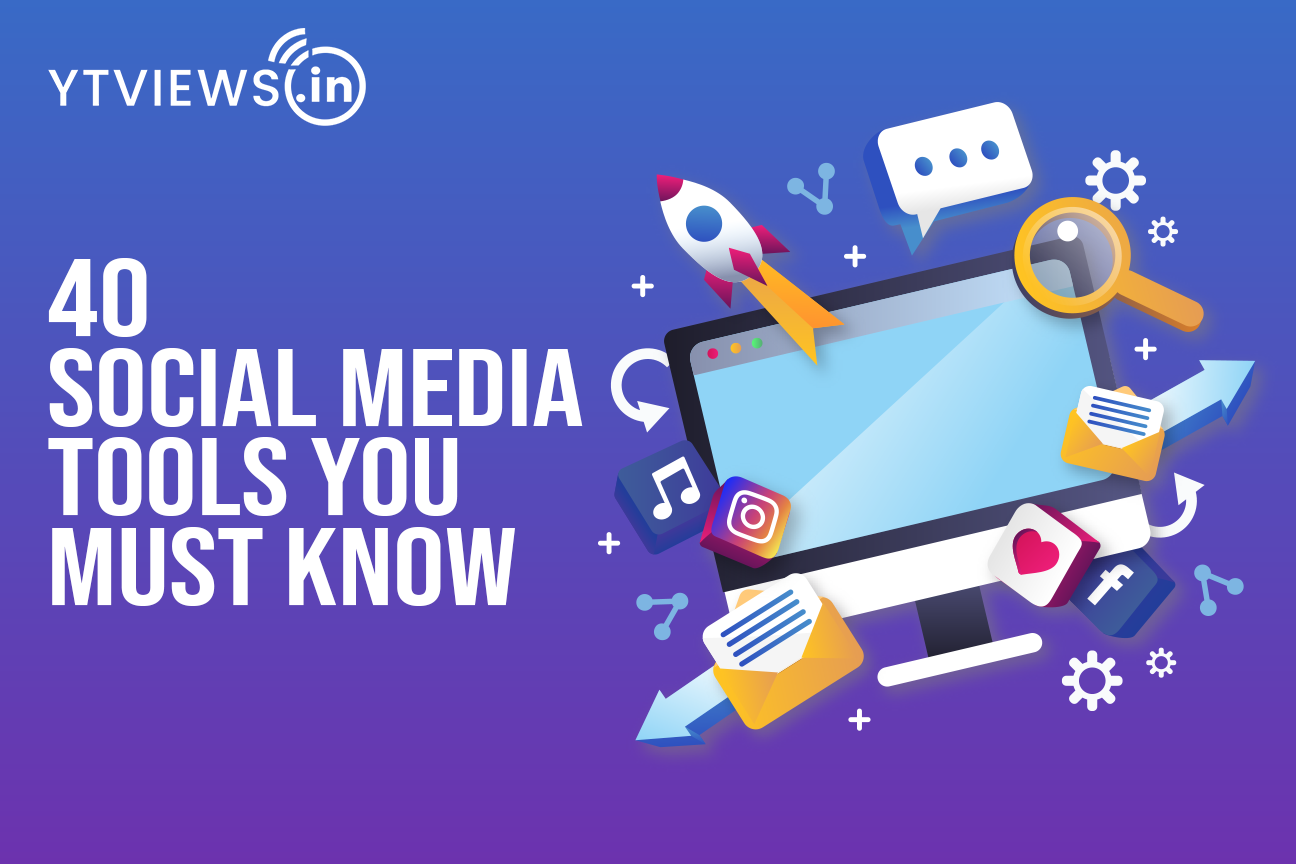 It can be overwhelming to begin putting together a social media campaign. Despite being aware of the need for social media analysis tools, you are unsure of where to begin. Millions of people worldwide now rely heavily on social media sites like Facebook, Twitter, and Instagram as a source of information. Tools that make social media easier.
Social media tools, with their strength, are essential if you want to establish a presence on any platform. And it's well worth it to establish this presence. The reach of social media is incredible. You can schedule posts, leave comments, listen to comments, and measure engagement with the aid of social media management tools.
We've put together a guide on everything you should know about social media tools as a service, and what kinds of tools are available and how social media tools fit into the strategy.
Let's now examine the best Social Media Management Tools in detail: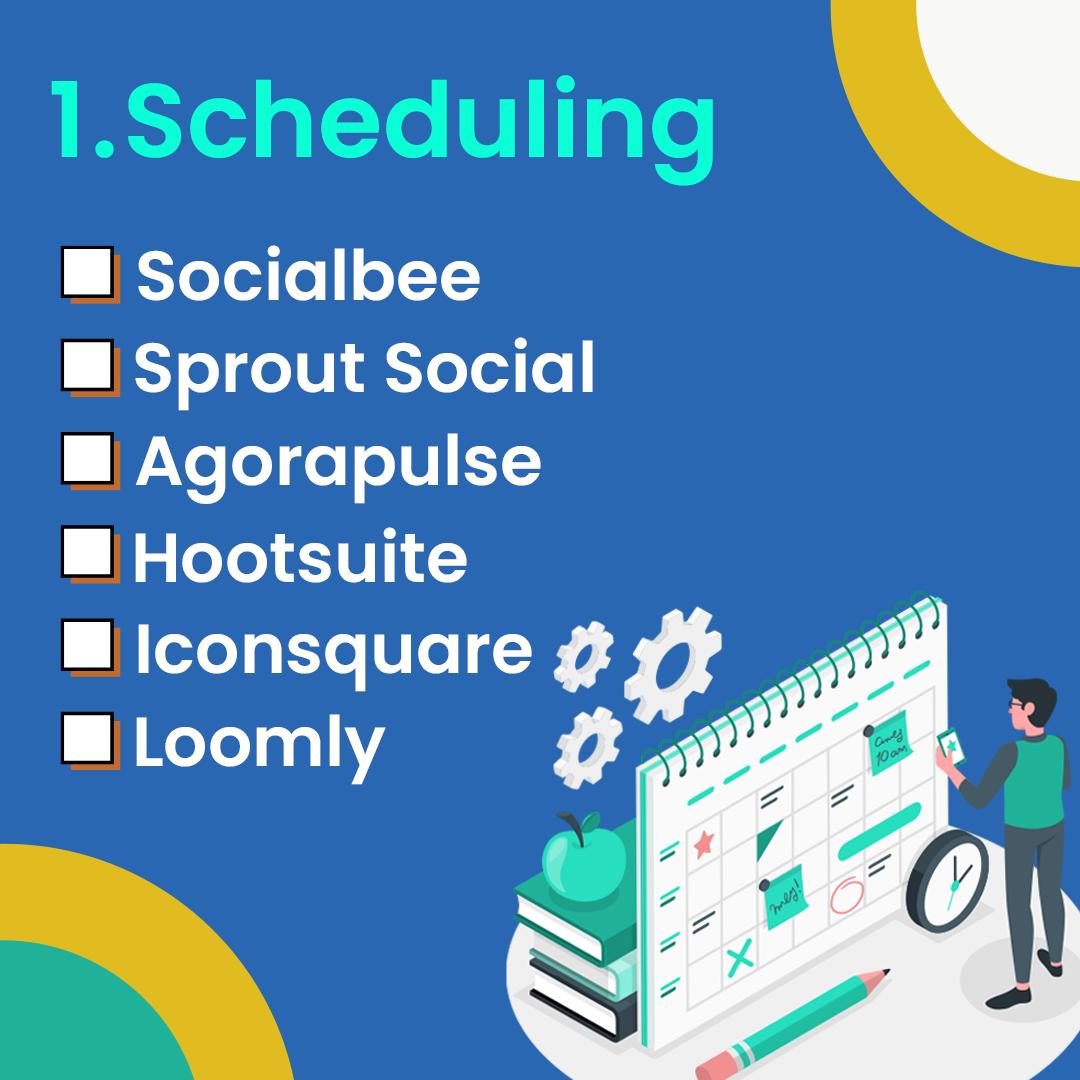 1. Sprout Social- One of the top social media management tools is Sprout Social. Sprout is trusted by more than 30,000 businesses, including Glassdoor and Shopify, for:
1. Arranging for social media.
2. Engagement statistics.
3. Analytics.
4. Brand tracking
Sprout Social will help you save time and carry out your daily social media tactics, whether you're a small business concentrating on a few social media networks, an agency managing several brands, or an enterprise business needing it all.
2. Agorapulse- Agorapulse offers a wide range of goods, including kits for managing social media inboxes, publishing content to social media, and monitoring online forums.
It also has tools to aid in managing and analyzing a brand's social media accounts as well as options for various levels of integration.
3. Hootsuite- You can connect to, keep an eye on, and plan posts for several social media platforms using Hootsuite. This tool is excellent and provides a wide range of social media features.
This platform enables you to include more than 150 apps in your social media strategy. If you have an international team and audience, the platform is additionally available in six different languages.
4. Iconosquare- Iconosquare is a social media analytics and scheduling platform that allows you to easily manage your social media accounts. It provides free resources like the audit tools for Facebook and Instagram, links in bio, and random comment selection.
Features of Iconosquare:
1. Reporting.
2. Analytics.
3. Monitoring.
4. Data Filters.
5. Tracking using Hashtags.
6. Measuring the Growth of Followers.
5. Loomly- Your social media team can easily create and publish social media posts in advance with Loomly's help. You can plan your content and save time by using its calendar and post-scheduling features. Loomly provides post ideas on popular subjects from RSS feeds, Holidays and celebrations, Twitter trends, and more to make it simple for you to come up with ideas for social media content.
Loomly Characteristics:
1. Library of content.
2. Ad and post mockups.
3. Workflow for approval.
4. Commenting system.
5. Version logs.
6. Hashtag manager.
7. Generating UTM parameters.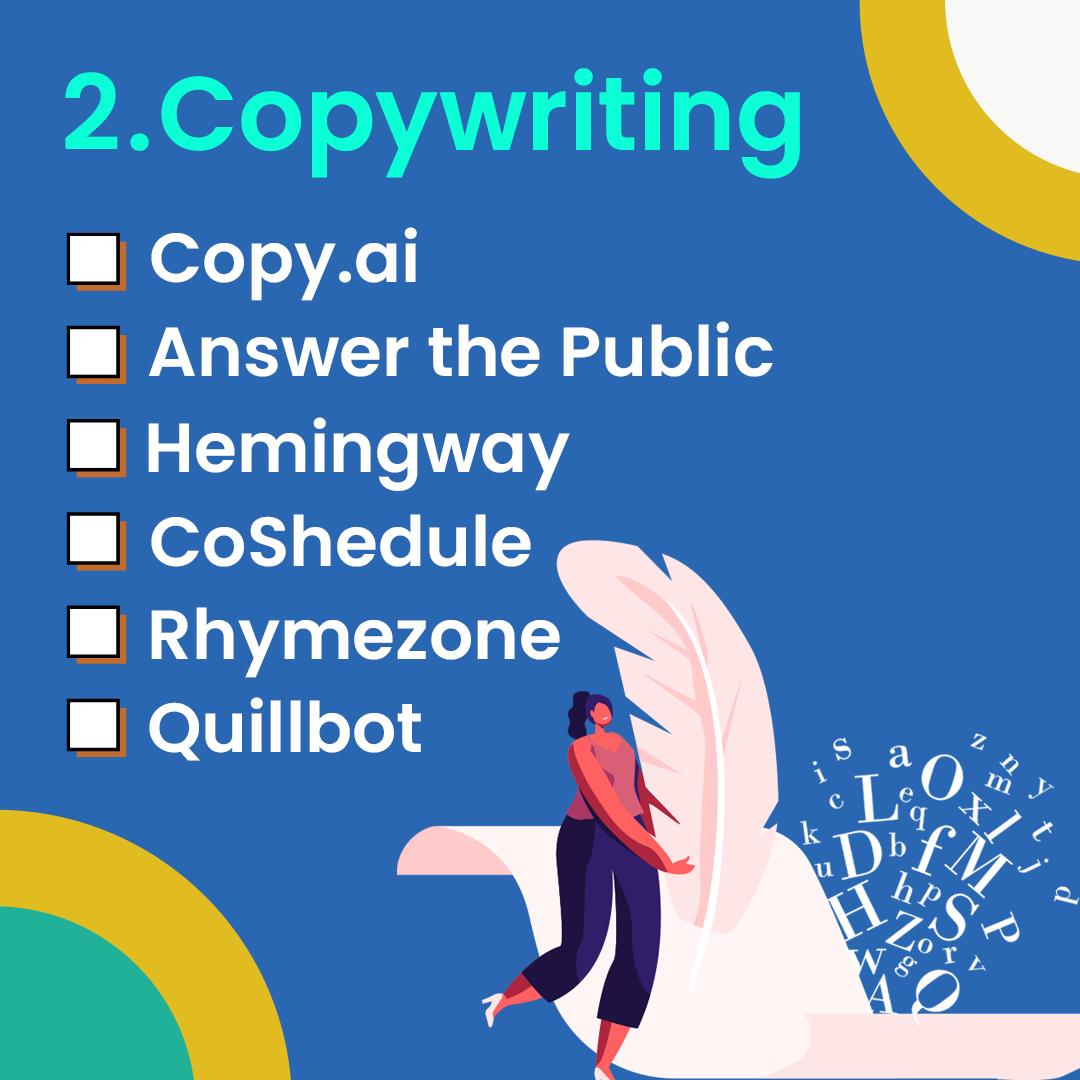 1. Copy.ai- Copy.ai helps our team with all types of copy and sales/copy, including product descriptions, advertisements, websites, blogs, and emails.
Copy AI Contains Functions:
1. Product Description.
2. Social Ads.
3. Startup Tools: Motorcycle Generators, Value Proposition, Brand Voice, etc., and copy of the website. email/letter.
4. Creation of content for social networks.
5. Retail copy.
6. Writing tools: plots, hero introductions, cliffhangers, etc.
2. Answer the Public- Answer the Public is a free online tool you can use to create content that drives traffic and sales to your website. You can find keywords and topics to cover to rank at the top of Google, which means more eyes on your business and more customers. There are also many other ways to do this.
Functions of Answer the Public:
1. Unlimited Daily Searches* Examine your keywords from every angle.
2. Monitor and get notified of new suggestions.
3. Track changes in brand perception, spot seasonal trends and be the first to respond to new emerging topics.
4. Compare data over time
5. Create folders to organize your searches.
6. Export your results in CSV format.
3. Hemingway- The app highlights long, complex sentences and common mistakes; If you see a yellow sentence, cut or split it. If you see a red highlight, your sentence is so dense and convoluted that your readers will get lost trying to follow its twisty, divisive logic – try editing that sentence to remove the red.
Features of Hemingway:
1. The app highlights long, complex sentences and common mistakes; if you see a yellow sentence, shorten or split it.
2. You can use a shorter word instead of a purple word.
3. Adverbs and weakening phrases are conveniently shown in blue.
4. CoSchedule- A social media tool called CoSchedule is used to plan out your social media posts and work together with team members to make sure everything runs smoothly. To guide your strategies for social media marketing, you can make a plan, schedule your posts, and examine analytics data.
Functions of CoSchedule:
1. Scheduling.
2. Automated social media.
3. Social models.
4. Publishing.
5. Coordinating and communicating as a team.
5. Rhymezone- RhymeZone is a website and application owned and operated by Datamuse, established as an online dictionary allowing users to look up rhymes, synonyms and definitions.
Quickly find rhymes, close rhymes, including oblique rhymes, synonyms, antonyms, homophones, similar-sounding words, words with the same consonant pattern, and other related words- generalizations, specializations, words appearing in the same context.
6. Quillbot- QuillBot helps you eliminate grammatical errors and paraphrase the content. Try it for free today. Include QuillBot in the writing tools you already use. The QuillBot AI Writing Platform Chrome Extension helps you write faster, smarter, and better. It helps you save time and instantly improve your writing.
Features of Quillbot:
1. Paraphrase tool.
2. Grammar check.
3. Checking for plagiarism.
4. The co-author.
5. The summary and Quote generator.
6. Built-in thesaurus powered by AI.
7. Comparison mode.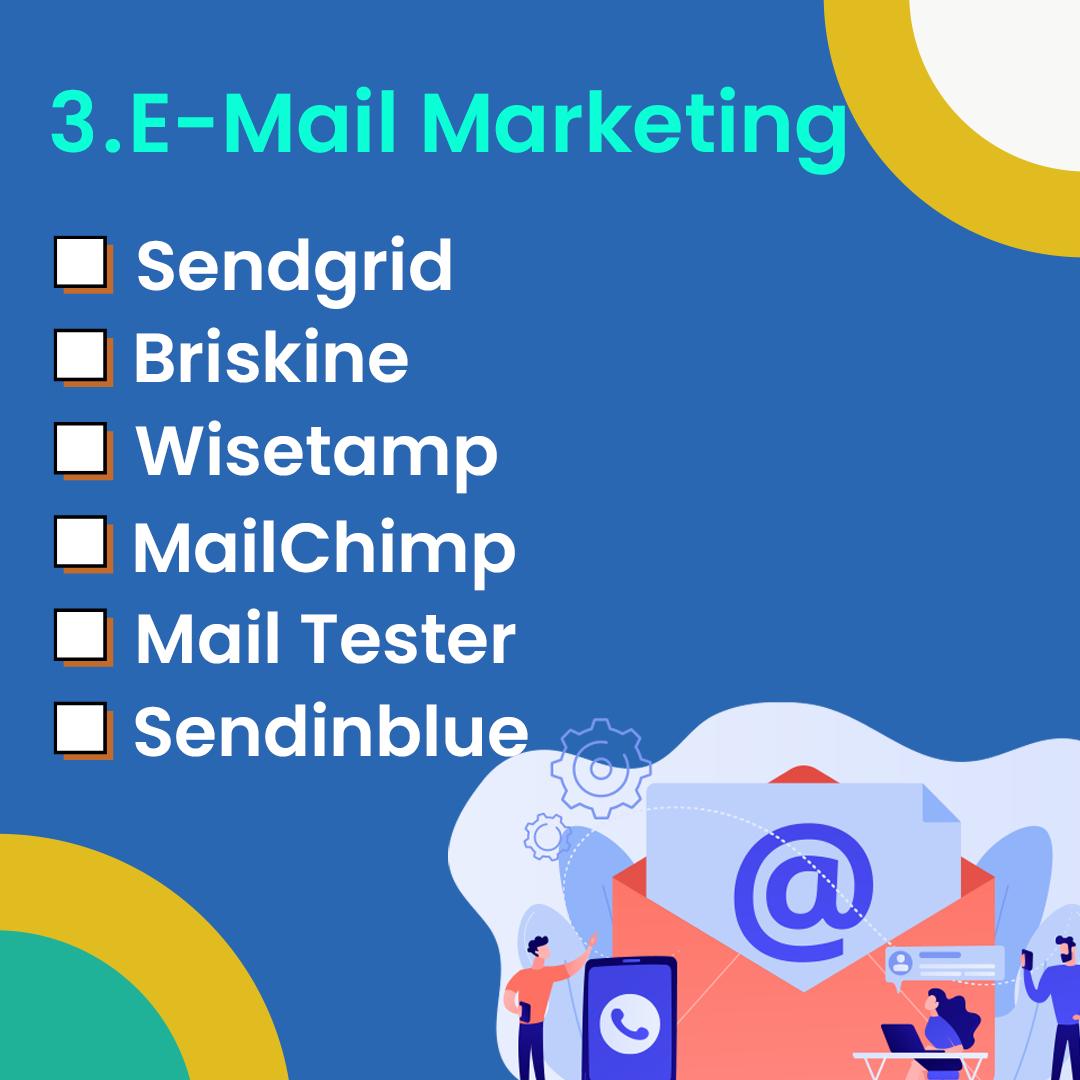 1. Sendgrid- SendGrid is a cloud-based SMTP provider that allows you to send emails without having to maintain email servers. SendGrid handles all the technical details, from infrastructure scaling to ISP outreach and reputation monitoring, whitelisting services and real-time analytics.
Features of Sendgrid:
1. Email Template Engine
2. Custom API Integration
3. Marketing Email Services
4. Feedback
5. Reputation monitoring
2. Briskine- Briskine is a browser extension that speeds up writing emails and messages. Write emails, messages, and replies faster by embedding templates in Gmail, Outlook.com, LinkedIn, or any other website.
Features of Briskine:
1. Add attachments to an email You can add files attached to an email when inserting a template.
2. Add or edit the email subject When using Briskine to send an email, you can use a template to define the email subject.
3. Complete the To, Cc, or Bcc fields.
4. Send emails from another email address.
3. Wisestamp- WiseStamp is a leading email signature management solution with over 1 million users worldwide. WiseStamp has 14 years of experience in developing electronic signature solutions for any business, start for free and No HTML code is required.
Features of Wisestamp:
1. Designed to be the best, Make your email signature shine with the right design, look and layout for your brand.
2. Stylish animated logout and Make your emails friendly and personal.
3. Use animated pictures.
4. Dynamic banners.
4. Mailchimp- Mailchimp is an all-in-one marketing platform that allows you to manage and talk to your customers, customers and other stakeholders. Our marketing approach focuses on sound contract management practices, well-designed campaigns, and powerful data analytics. We are here to help you become a marketing expert.
Features of Mailchimp:
1. Public management, Marketing CRMs and Segmentation.
2. Content Workshop, Dynamic Content, Campaign Templates and Customer Trips.
3. Smart recommendations, A/B testing.
4. Test different versions of the same email to see how small changes can affect your results and a Content Optimizer.
5. Mail Tester- MailTester is an email verification solution that can verify emails from any database with up to 99% accuracy. MailTester can identify duplicate and bounced emails, remove spam traps and risky keyword emails, and verify email domains and syntax.
Features of Mail Tester:
1. Compliance management
2. Bulk Email Verification
3. Shipment Tracking
4. Domain verification
5. Duplicate detection
6. Email management
7. Email tracking
6. Sendinblue- Sendinblue is the only all-in-one digital marketing platform that enables B2B and B2C businesses, eCommerce sellers and agencies to build customer relationships through end-to-end digital marketing campaigns, transactional messaging and marketing automation.
Features of Sendinblue:
1. Marketing Platform
2. Conversations
3. Sales CRM
4. To chat
5. SMS/email marketing
6. CRM
7. Segmentation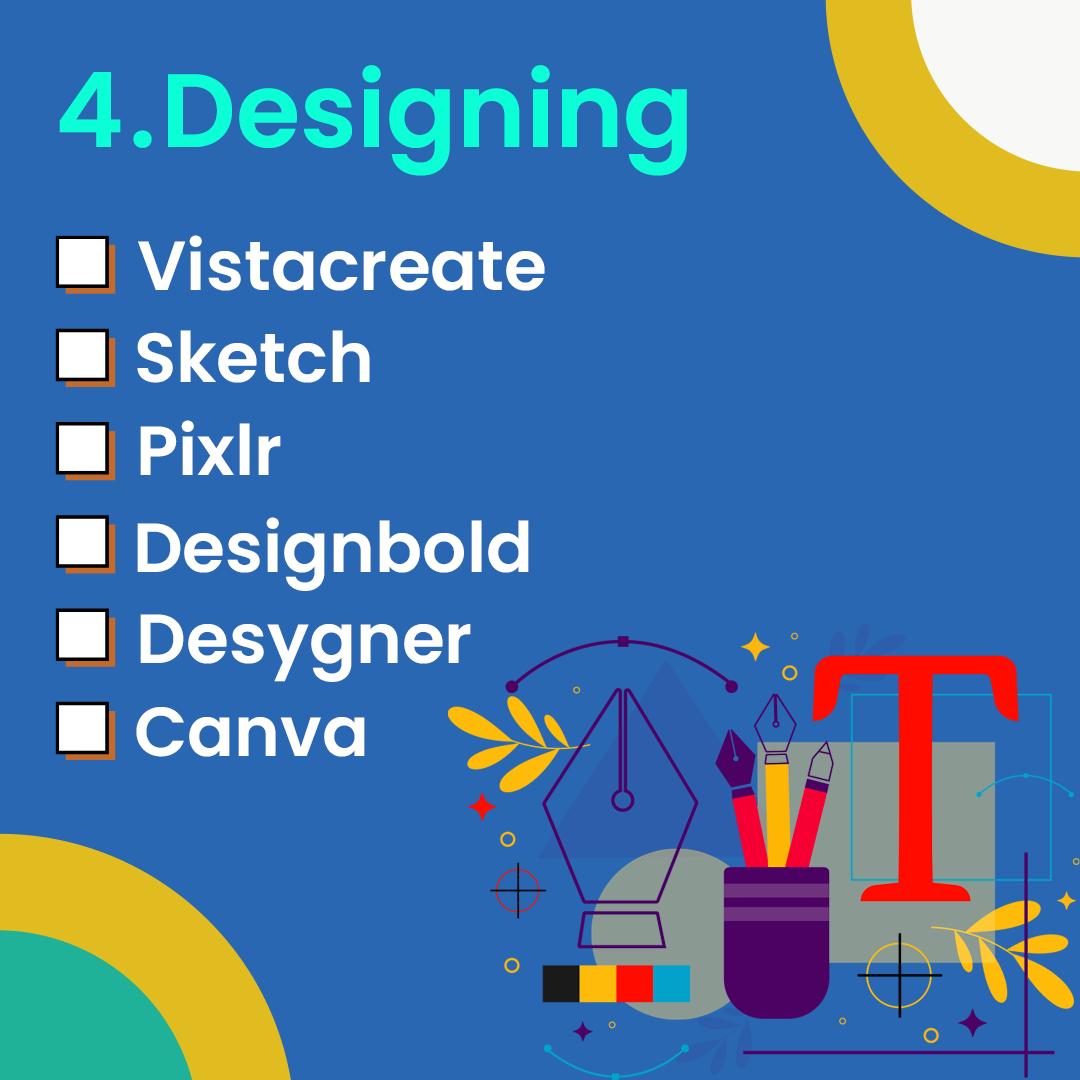 1. Vistacreate- VistaCreate, formerly Crello, is a free design platform with thousands of templates and a wide range of editing features that you can use to customize designs. Remove backgrounds, access a huge library of fonts, illustrations, stickers, and more, and create professional designs effortlessly and for free. VistaCreate has a Contributor Program that allows designers to create new designs for VistaCreate and earn money doing what they love.
Features of Vistacreate:
1. Account-Based Marketing.
2. Content marketing.
3. Conversion rate optimization.
4. Customer Data Platform (CDP)
5. Demand generation.
6. Digital analysis.
7. Event Management and Advertising
2. Sketch- Sketch is a Vector Graphics Editor for macOS created by the Dutch company Sketch B.V. It was developed. It was first released on September 7 2010 and won an Apple Design Award in 2012. It also has a web application that allows users to share files online.
Features of Sketch:
1. Helps companies develop ideas, test them, and collaborate with team members
2. Use of colour variables, layouts, shared libraries, vector editing tools, plugins, etc
3. Pixlr- Pixlr is a cloud-based set of image editing tools and utilities that includes several photo editors and a photo-sharing service. It was acquired by Autodesk in 2011. The suite is intended for basic and advanced photo editing.

Features of Pixlr:
1. Effects.
2. Layers.
3. Replace the colour.
4. Brush.
5. Adjustments.
6. Retouch the Image.
7. Filters.
8. Object transformation.
4. Designbold- DesignBold is an online graphic design software suitable for any user. It has over 4,500 easy-to-use tools to help you create engaging content and share it directly. DesignBold also offers thousands of editable templates. Whether you're working on graphics, Instagram, party invitations, or business cards, this software has the perfect premade mockup for you. These examples are fully customizable and easy to edit using the program's drag-and-drop interface.
Features of Designbold:
1. Digital asset management.
2. Digital Experience Platforms (DXP)
3. Enterprise Content Management (ECM)
4. Headless CMS.
5. Knowledge management.
6. Automation of mobile forms.
7. Web accessibility.
5. Desygner- Desygner is your go-to solution for visual content creation as it offers plenty of tools to create or design graphics for your business or personal projects. You can start with a blank template, set your dimensions, or start with a professionally designed template.
Features of Desygner:
1. Images and posts on social media.
2. Free vector graphics and stickers.
3. Free backgrounds.
4. Blog titles.
5. Download the print-ready design file.
6. Edit draft.
7. Share drawings.
8. Models ready.
6. Canva- Canva is an Australian graphic design platform used to create graphics and presentations for social media. The app comes with pre-made templates for users to use, and the platform is free with paid subscriptions like Canva Pro and Canva for Enterprise for additional features.
Features of Canva:
1. Drag and drop editor for easy customization.
2. Over 250,000 free templates.
3. 100+ types of designs (social media posts, presentations, letters and more)
4. Over 1 million free photos and images.
5. Invite others to design and collaborate.
6. Wide range of printable products to design and deliver directly to your home.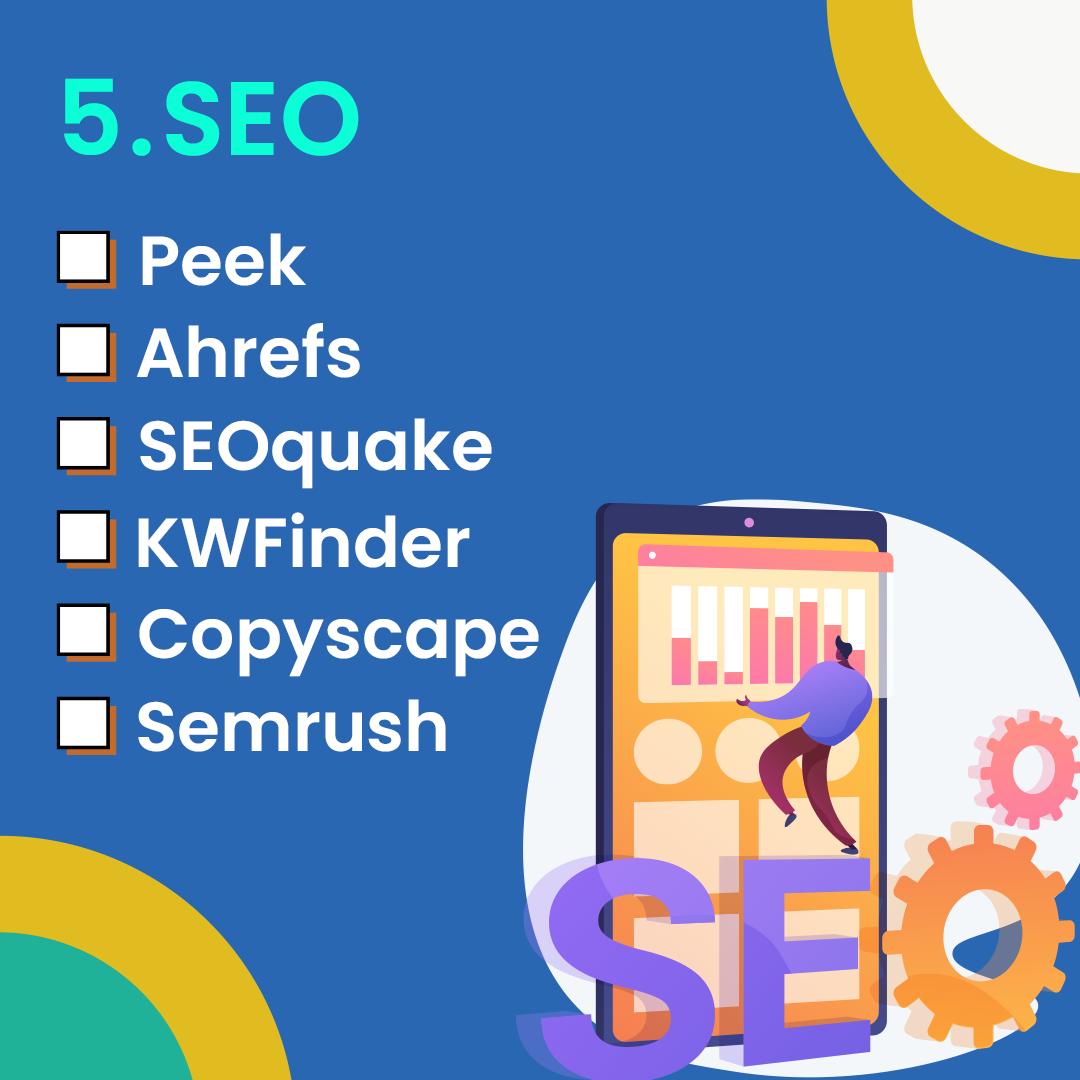 1. SEO Peek- SEO Peek is a Chrome extension that inspects the Document Object Model (DOM) of a page. There is no need to view the HTML source or examine the DOM in the Chrome DevTools Elements tab.
SEO Peek examines the most relevant content elements and crawler instructions in the DOM of traditional server-side generated pages and client-side rendered pages such as Single Page Applications (SPAs).
Apart from inspecting HTML elements, the extension also sends a request to the server to inspect HTTP status and several HTTP response headers such as Canonical HTTP header, X-Robots- Tag and Vary header to consider.
2. Ahrefs- Ahrefs is an all-in-one SEO toolset for increasing search traffic and optimizing websites. To do this, Ahrefs crawls the web, stores tons of data, and makes it accessible through a simple interface.
Features of Ahrefs:
1. Keyword Research
2. SEO Health
3. Analyze the Website's Link Profile
3. SEOquake- SEOquake is a free plugin that provides you with important SEO metrics along with other useful tools like SEO Audit and many more. SEOquake is a free plugin for your browser that provides you with organic search data at the click of a button. Currently compatible with Mozilla Firefox, Google Chrome and Opera, SEOquake can provide parameters about listings on a search engine's results page.

Features of SEOquake:
1. Quickly check all essential organic SEO data for a web page.
2. Perform an in-depth SERP analysis with the option to save the analysis report in a file in CSV format.
3. View the SEO difficulty of keywords.
4. Perform an SEO audit.
5. Analyze the backlink profile of a web page.
4. KWFinder- KWFinder is a keyword research tool for research marketing. Satisfy the need for keyword expansion: Generate more keywords for a site to rank for. It provides its index value for SEO difficulties and insights into the competitive landscape in pay-per-click (PPC) advertising.
Features of KWFinder:
1. Search keyword.
2. Bulk upload and review.
3. Search domain.
4. Create a list.
5. Integration with other Mangools tools.
5. Copyscape- Copyscape offers a free plagiarism checker to find copies of your web pages online, as well as two more powerful professional solutions to prevent content theft and fraud:
Copyscape Premium offers more powerful plagiarism detection than the free service, plus a host of other features, including copy-paste originality checks, PDF and Word file uploads, batch searches, private index, case tracking, an API and integration with WordPress. Copyscape also offers free plagiarism warning banners for your website to warn potential plagiarists about the theft of your content, a free tool to compare two web pages or articles, and a complete guide to dealing with plagiarism.
Features of Copyscape:
1. Copy-paste originality checks.
2. Upload PDF and Word files.
3. Stack search.
4. Private index.
5. Files monitoring,
6. API and WordPress integration.
6. Semrush- One of those all-inclusive tools, Semrush, recently enhanced its social component. The focus is on SEO and keyword research. Nevertheless, the tool has more than 55 features for link builders, social media marketers, content marketers, and every other position in digital marketing.
In addition, Semrush has numerous SEO, content, social media, competitive research tools, and an agency growth kit.
Features of Semrush:
1. Keyword research.
2. On-page SEO.
3. Competitive analysis.
4. Sharp tools for your Amazon business.
5. Content marketing. Local SEO.
6. Ranking tracking.
7. Social media management.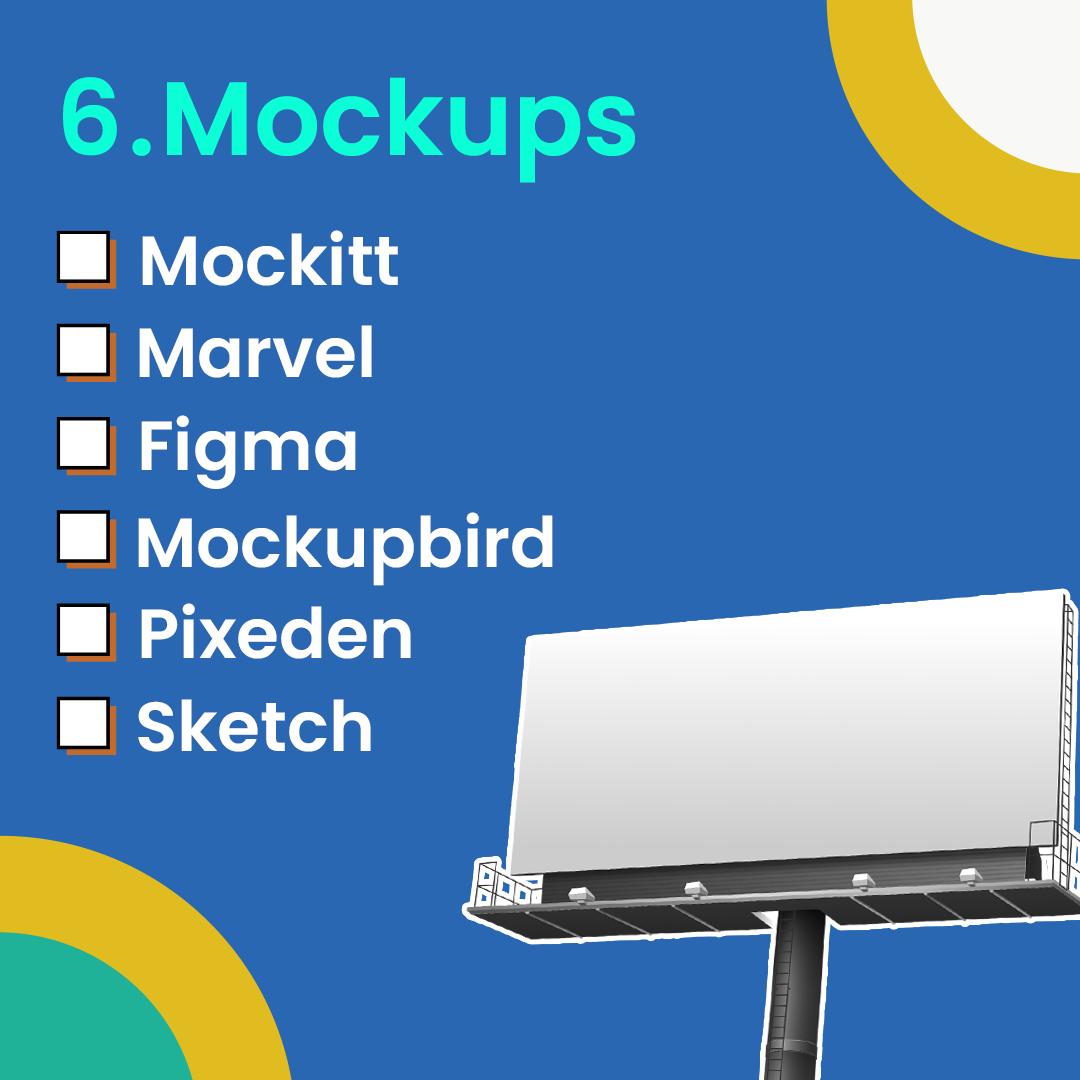 1. Mockiit- Mockitt is an online prototyping and collaboration tool that helps you advance your design journey, predefine your idea and validate your concept.
Features of Mockiit:
1. Create wireframes, mockups, and prototypes.
2. Over 500 built-in widgets.
3. Rich interaction and animation.
4. 3 preview modes include Device, Page and PRD.
2. Marvel- Whether you're a web designer or someone who needs to draw and demonstrate an idea to share with others, the Marvel app is for you. The collaborative design platform allows users to create, access and share from one place. Create professional mockups, wireframes, mockups, designs, and specs from a single platform. Marvel was used to creating models and organise project data. The prototype was used for user testing with potential users.
3. Figma- Figma is a cloud-based design tool similar in functionality and features to Sketch, but with important differences that make Figma better for team collaboration. It is a collaborative interface design web application, with additional offline functionality enabled by desktop applications for macOS and Windows.
Features of Figma:
1. Auto-update layout.
2. Update the Nudge Amount to 8 pixels.
3. Use the Bar Graph Arc tool.
4. Manage core components.
5. Use true/false logic. Arrange the grid or change positions.
6. Edit spaces in bulk.
7. Rename multiple layers at once.
4. Mockupbird- Mockingbird helps you create and share clickable wireframes. Use it to prototype your website or application in minutes. Mockingbird is a quick and easy way to create clickable wireframes and mockups. Create and share clickable mockups of your website or application.
Features of Mockup Bird:
1. Grids and columns
2. Export to PDF and PNG
3. All the UI elements you need
4. Multiple pages of links
5. Clean and clear mockups are Fully web-based
5. Pixeden-  Pixeden is hard at work providing high-quality web resources, it is meant for high-quality designs and web resources. Download all of our free web and graphic design templates and get access to all of our Premium Files starting at just $6 a month.
Features of Pixeden:
1. Community Features
2. Free Resources
3. Premium Resources
4. Email support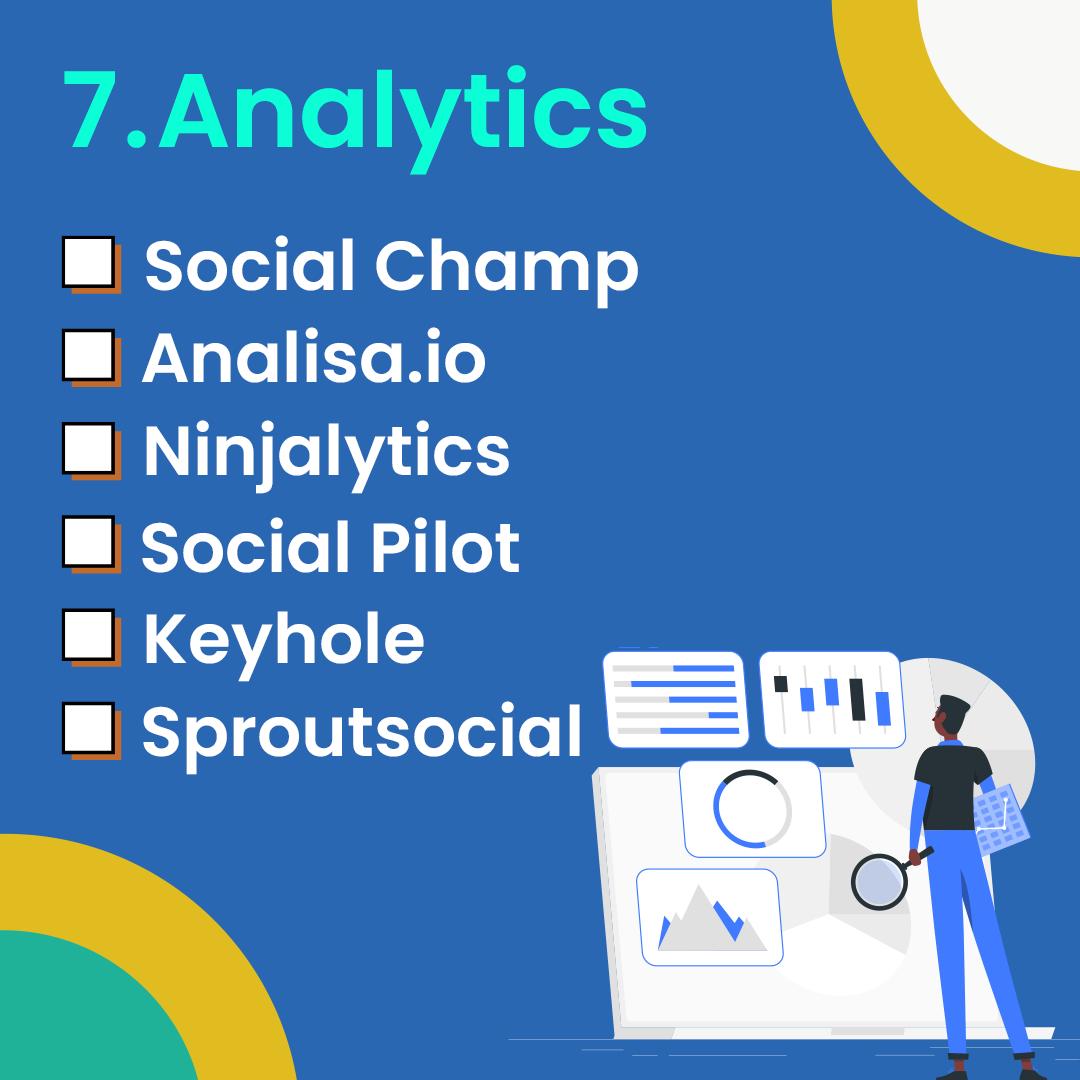 1. Social Champ- A social media management tool to plan, organize and analyze multiple social media. manage accounts and their conversations using. As heavy social media users, the ability to schedule and post to all platforms with one click is a huge boon.

Features of Social Champ:
1. Team.
2. Mobile app.
3. Bulk transfer.
4. Free social media planner.
5. Sentiment analysis and Chrome extension.
6. Content curation.
7. Automatic RSS.
2. Analisa.io- For small-to-medium-sized businesses and enterprises, Analisa.io offers free social analytics tools for Instagram and TikTok.
Features of analysis.io:
1. Reporting.
2. Age, gender, and country insights for the follower audience.
3. Audits of the authenticity of followers.
4. Influencer mapping.
5. Tagged connections.
6. Analysis of the content.
7. Schedule posting.
8. Location-based mapping.
3. Ninjalytics- Ninjalitics offers you an analysis of your Instagram business profiles and those of your customers. Your accounts are 100% secure thanks to the official Instagram API. We can provide you with quick and easy in-depth analysis, including Instagram Business Insights for up to 6 months, and improve your profiles.
Features of Ninjalytics:
1. Advanced story analysis
2. Post analysis
3. Complete the geolocation of your followers
4. Best times to post
5. Download the reports in PDF
6. Share digital reports
7. Discover sponsored posts from competitors
8. Send automatic reports
4. SocialPlot- You can schedule up to 500 posts with Social Pilot from a single dashboard for the most popular social media sites. Additionally, it provides social insights that show your account's performance in detail. From a single dashboard, you can respond to stories and comments on Facebook and Instagram.
Features of SocialPilot:
1. Native Mobile Apps.
2. Extensions for Browsers.
3. Post Scheduler.
4. Groups and Cooperation.
5. Customer Service.
6. Integration of URL shortening.
7. Analytics for Social Media.
8. Personal Branding on Facebook.
5. Keyhole- Keyhole helps marketers measure, improve and report on the impact they have on social media. Keyhole's social listening, influencer tracking and social media analytics products help marketers improve their social media strategy and demonstrate its impact on their peers and customers.
Features of Keyhole:
1. Influencer tracking.
2. Monitoring of social media accounts.
3. Hashtag analysis.
4. Editing & Planning.
5. Social media reports.
6. Hashtag tracking.
7. Keyword tracking.
8. Historical Twitter data.
6. Sprout Social- Sprout Social is a social media management and intelligence tool for brands and agencies of all sizes to manage conversations and gain actionable insights that have real business impact.
Features of Sprout Social:
1. Collaborative content calendar.
2. Advanced post scheduler.
3. Germination queue. Included in all packages.
4. Publication with multiple profiles. Included in all packages. …
5. Multimedia publishing. Included in all plans. …
6. Instagram program
7. Editing an image.