Twitter – New View Count for All Tweets
Like people can see view counts on YouTube videos, Twitter has a new feature that will display the number of views for each tweet. Only those who previously tweeted could access tweet analytics (the small bar graph) and see the count.
A few users started sharing screenshots showing the tweets' new four available options rather than their previous three. In addition to Retweets, Quote Tweets, and Likes, the view count is now visible on the far left. It's unclear whether the feature is accessible on the web, Android, or iPhone. Furthermore, it appears that not everyone possesses it.
Elon Musk made the announcement about the feature's release earlier this month, and he repeated it eight days later, saying that "Twitter is much more alive than people think".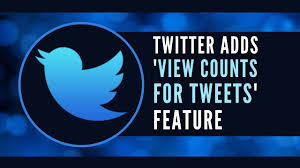 How to Monitor Tweet Activity?
You can access detailed analytics about your tweets in addition to the new feature's display of views across all tweets. You can tap a tweet to reveal a small graph with "View Tweet activity" next to it.
You can view impressions (the number of times this tweet was seen on Twitter), details expand (the number of times users viewed this tweet's details), profile visits (the number of times this tweet was considered on a user's profile), new followers (the number of followers gained as a direct result of this tweet), and engagements (the total number of times a user interacted with a tweet). Clicking on any part of the tweet is one of the engagements.
Twitter $Cashtags Feature:
Twitter has also launched the $Cashtags feature, which allows users to view the share prices of US-listed companies, exchange-traded funds (ETFs) or cryptocurrencies by placing a dollar sign in front of the symbol.
For example, $APPL (Apple stock price), $GOOGL (Google stock price) or $BTC (Bitcoin). Twitter also said that in the coming weeks, "we'll be improving the user experience and expanding our symbol coverage."