Relive the journey of Yashwant Mahadik – The multi – talented entrepreneur
"FILL YOUR LIFE WITH EXPERIENCES. NOT THIGS HAVE RICH AND INTERESTING STORIES TO TELL, NOT MUCH MATERIAL STUFF TO POSSESS OR SHOW"                                        – Yashwant Mahadik
Yashwant Mahadik is well fitted into several roles and thriving all at once, and his biography is a palate of achievings defining a spectrum of growth in different shades. He can be considered a person with multiple adventures as he has diverse experiences in subjects like Technology, consumers Healthcare and geographies (India, UK, Japan, USA, ASEAN, and Europe). Also, he has been honoured with the global HR title and listed in the top 50 most potent HR coming from India. He is a mentor, coach, wildlife photographer, and expert in creating values via business.
His phenomenal strengths are Strategy (Business, Crew, and HR operational), HR and Business Transformation, Leadership Development, Organization and Culture building, Credentials Building, Workforce Design & Planning, Talent Management, Succession Planning, Merger/Acquisition Integration, and Executive Coaching.
The rise of Yashwant Mahadik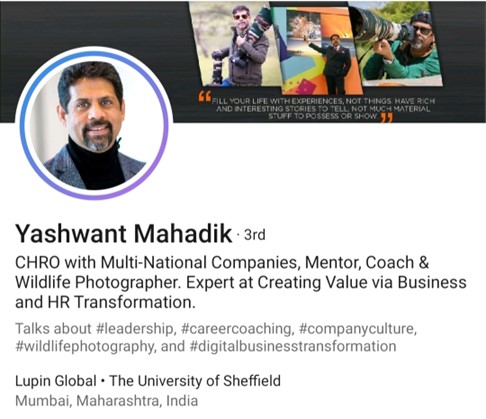 His ideas are ideologists and have led to global adaptation at several enterprises he has worked with. He proficiently intends to help evolve our digital markets & technology to some unique levels with his energetic nature. In today's time, he has become a significant influencer with his emphatic social media (platforms such as Linkedin, Twitter, Facebook, etc.) presence and mind-blowing accomplishments.
He also keeps his own blogs. His enormous social media orientation(development sector) and beliefs in helping society by sharing his precious time & earnings for social development and the underprivileged education. He cherishes our culture in his heart and sentiments of evolution in his mind.
He can be seen as a true believer in taking everyone together hand in hand towards growth. He is a wanderer's soul and an avid golfer who loves reading, learning & exploration. He is a very perceptive shutterbug(photographer) and is the originator of many professional-level, admiringly creative pictures using digital photography tools and technologies. "Yash Mahadik Photography" in the devotion to a noble wildlife conservation cause. Therefore he is making our motherland genuinely proud.