Reasons why you might want to switch to Telegram
Telegram is an instant messaging app that gives you a simple, accessible way to communicate with people all over the world. It is much like the other instant messaging apps– WhatsApp, Viber and Line. It has recently crossed its 1 billion mark and has over 500 monthly active users. A large portion of the crowd has started to favor Telegram and it raises a very obvious question: Why? We'll answer this question by taking a gander at the features that give Telegram an ace up its sleeve:
Unlimited server storage
Telegram offers inexhaustible storage. All your text messages, images media files & documents will be saved on their cloud, and you won't lose any data or have to backup and restore no matter how many times you log in and out from a number of devices. You can download any file any time anywhere and there is no cap on the total number of files that can be uploaded.
Media compression 
In Telegram you are given the option to choose whether to compress the image and video or send the uncompressed version. If you want to preserve the quality of the media as its original then choose the option send it without compression. A lot of apps don't let you do that and deteriorates the media quality.
Quantity of group membership and channels 
A Telegram group can accumulate a maximum of 200,000 members. How great is that? You can also join about 50 groups and Telegram has a limit of 500 supergroups per account for Telegram API. A Channel is somewhat similar to groups, which can accommodate an unlimited number of members. The creator of the channel decides who can post on the channel and other members can view the posts.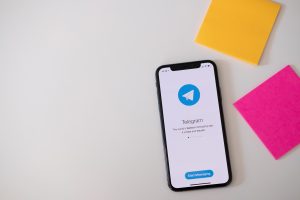 Privacy
You can communicate with anyone on Telegram even if you don't have their contact number. You can continue to send messages in a group without revealing your phone number. Telegram also has a feature called secret chats. Secret chat is a kind of end to end encrypted chat in which one can set self-destruct timer. The messages will be automatically deleted when the timer hits.
Sends all kind of files
It possibly has to be one of the best features of Telegram. Users can send any kind of file through Telegram. The other social networking sites limits video, images & document type files which is very difficult for a good number of users. You can even send movies and other files!
Multiple support 
Telegram is available for Android, iOS, Windows phone, Windows pc, Linux OS, and can be accessed even through any browser. Users on telegram can log in on multiple devices at the same time and be able to receive messages on all devices and browser too. You can even keep messages in draft and they get synced to all your devices and you can send it from another device.
All things considered Telegram has proffered some really cool features and updates on a regular basis and its surely worth a try.