Musk's Twitter Revolution: Unveiling the New Picture-in-Picture Mode
Since Twitter came under Elon's control last year, the platform is experiencing several changes. Musk is trying to revolutionize Twitter in his own way. You must be wondering what's new now. Well, it's something inspired, particularly by YouTube. Yes, Twitter now has a new picture-in-picture mode that will serve the same purpose as YouTube's mini-video frame feature.
Elon's reply to Jesse Daugherty's tweet confirmed the news of the coming of the picture-in-picture mode on Twitter. This new picture-in-picture mode is Elon's idea of proving to users that Twitter lacks nothing to be in competition with WhatsApp and YouTube.
Musk's picture-in-picture mode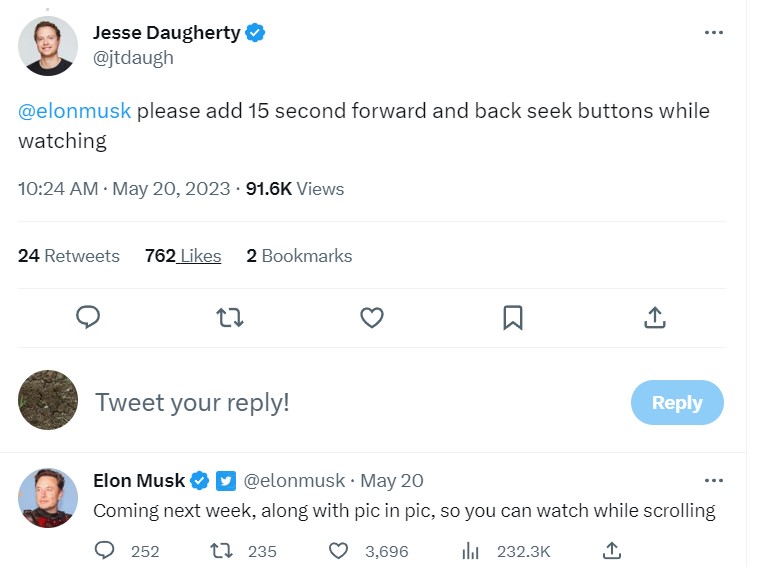 Elon's every step in moving toward his own kind of Twitter excites the audience. Users will be able to watch videos in minimized version. They won't have to kill the fun by scrolling through other videos. WhatsApp and YouTube have this amazing feature already, and now Twitter won't be lagging behind in having this PIP mode.
Along with this pic-in-pic mode, users will be able to use forward and back buttons to skip videos for straight 15secs. Some users also replied wondering about the 2x option. Basically, in this picture-in-picture mode, you can scroll and function in the background while watching minimized version of your desired video.
Elon recently shifted his Twitter CEO responsibilities to Linda Yaccarino and decided to play his role at the micro-blogging site. Earlier, Linda Yaccarino was an advertising chief at Comcast Corp's NBCUniversal who invested many years in the ads business. Now, she has shown her willingness to work for Twitter.
Whether it is about posting tweets exceeding 250 characters or enjoying the benefit of watching 2 hours long videos, there's a lot that the platform has absorbed recently. And now, the coming of this picture-in-picture mode is definitely going to make things even simpler yet interesting for folks.
However, people are still wondering whether this feature is for all or only blue-verified subscribers. So, let's see how this new PIP Mode turns out on Twitter. Also, even more exciting things about Twitter's future are, of course, yet to come.