LinkedIn marketing tips to increase your visibility
LinkedIn is a great platform for business owners to reach out and connect with clients, but there are many strategies that can be used to increase visibility. In this blog post, we will discuss 5 LinkedIn Marketing Tips that will help you get your message across to more people on this social media site.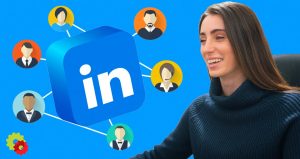 P.S. Want to get more visibility on LinkedIn? If the answer is yes, then you need to get people to engage on this platform. In SocialAppsHQ, we provide services to get LinkedIn likes for your posts. This will get relevant users to engage with your content which will boost your visibility on LinkedIn.
Optimize your profile
If you want people to find out more about your business, you need to optimize your profile so that it is easily found. Your profile should include as much relevant information as possible, such as your location, your industry, and who you do business with. Include a link to your website and profile on other social media sites so that people can easily access all of the information about your company in one place.
Make sure that everything is up-to-date; it's difficult for users to feel confident when they're not sure that your information is accurate. It's also important to remember that LinkedIn is different from other social media sites because it focuses on professional content, so limit your personal information.
Post articles to LinkedIn publisher
It's important for users to see that you are an authority on your subject, and one way of showing this is by posting articles. By posting articles to LinkedIn Publisher, you can reach more readers and increase your online visibility. Be consistent in posting content so that users can expect new material on a regular basis. If possible, post several times per week.
Posting articles is not enough; you also need to make sure that the content is engaging and provide value to your readers. For example, if you are writing an article about LinkedIn Marketing Tips, then include advice that users can use to grow their business. If you don't have enough content to publish, you can repurpose your blog into LinkedIn posts. Be sure that the article is relevant and interesting so users will want to read it.
Use LinkedIn Live
You can increase your online visibility by using LinkedIn Live. It's a great way to engage with people, and you can host video chats on any topic that is relevant to your brand or industry. If possible, be sure to include a Q&A session at the end. This is a great way to engage with your audience and also get feedback on how you can improve.
By participating in LinkedIn Live, you can share your knowledge with others and increase potential customers who are interested in learning more about your business. Additionally, if you host a live session, you will get more people to view and share it. This shows that your brand is reputable because viewers trust the information that you provide; therefore they are willing to pay attention when you offer advice or tips.
For example, if you are hosting an article about How to Use LinkedIn for Business, then include tips that users can use to increase their online visibility. Make sure that the video is professional and provides value; do not just host a session without any preparation or information.
Use LinkedIn Ads
LinkedIn ads are another great way to increase your online visibility. You can easily target people who are connected with similar brands or have an interest in specific topics, so there is a high chance that they will be interested in learning more about you. By using LinkedIn ads, you can reach a new audience that is interested in your business.
Additionally, since the people who are targeted have already expressed interest in what you offer, they are more likely to purchase your product or service when it's time for them to make a buying decision. When running ads on LinkedIn, be sure to use targeting that is relevant so users are more likely to click.
For example, if you offer marketing courses for small business owners, then target people who work in a similar field or have the same job title as they are most likely interested in learning how they can improve their business practices. LinkedIn ads allow businesses of all sizes to reach more people and increase their online visibility. However, it's important to monitor the ads so that you can get higher engagement with your target audience.
Join LinkedIn groups
Joining groups on LinkedIn is another great way to increase your online visibility. There are thousands of different groups that you can join, so picking the right ones will depend on the type of industry and audience that you want to target. To find groups to join, search for the topic that you offer and see which ones pop up.
Once you have found several groups, consider joining at least five of them. Make sure that you post relevant content in the group so users can learn more about your business and what it offers. Also, be sure to reply and engage with people who post comments or questions.
This shows that you care about your audience and value their opinions; therefore users will want to check out the group after seeing how much effort you put into it. By joining groups, you can increase your online visibility and get in front of a new audience that is interested in what you have to offer.
Additionally, there are chances that people will want to learn more about your business if they see how active you are on LinkedIn.
As you can see, there are many different ways to increase your online visibility through LinkedIn marketing. By using the tips provided in this article, you'll be able to reach a new audience and get in front of people who are interested in learning more about your business.
Now that you know how to get more out of LinkedIn, you can start focusing on other ways that your business can increase its visibility online.