India's top social media marketing platform YTVIEWS is all set to launch an Influencer marketing platform in 2023
Ytviews has been the number one platform in India for social media promotion and marketing, thanks to all the love of our users. Recently, there was a huge demand from our users, throughout the globe, to launch a feature which would allow them to seek the benefits of influencer marketing. And as we have always preached, customer demand is our top priority. And we are here, with not only a feature but a completely new platform, solely dedicated to influencer marketing.
What is influencer marketing and how does it work?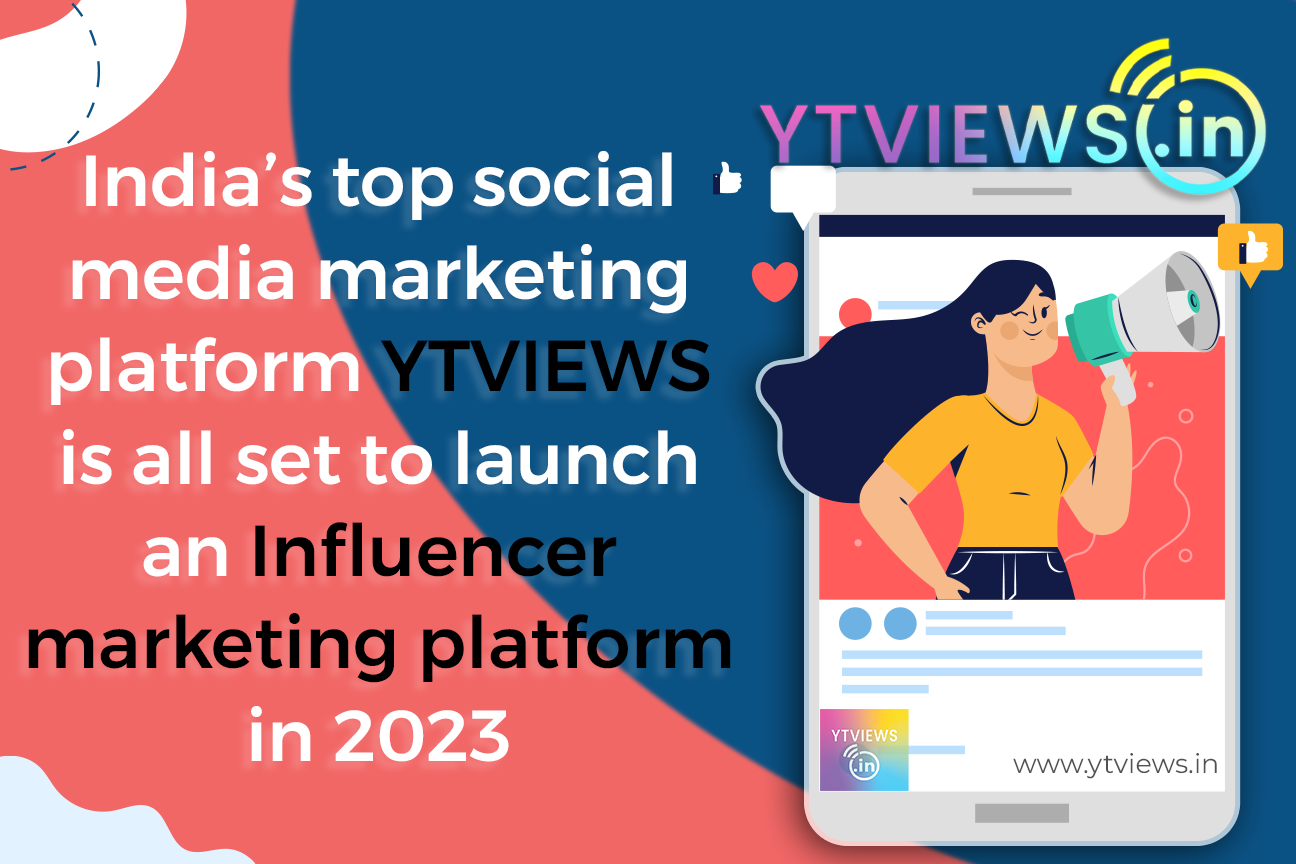 Influencer marketing, also characterized as content marketing or collaborating with artists, is a guaranteed approach to enhance your company's social media presence. There seems to be no one-size-fits-all solution for implementing this strategy, but with the correct analysis and decision-making, almost any company can profit.
Let me elaborate on this with an example. The chances of us buying a product if it's recommended by a friend is considerably high, rather than that being shoved at us by a commercial advertisement. Essentially said, an influencer is one who has the ability as well as the medium to influence others, and can demonstrate your product to a wide variety of audiences. 
Influencer marketing is when a prominent figure works with a company to promote a product. Traditionally, celebrities like cricketers, movie actors and such personalities were considered influencers. However, today social media has gained a lot of authenticities and we're talking about social media influencers which refer to people who tend to have a very healthy follower base on social media platforms which can prove to be a medium for companies to promote their product or service.
How would you choose an effective influencer?
I prefer to think of distribution in terms of reach (audience size) and interactivity. It's common to mistakenly believe that someone with 100,000 Twitter followers or 1,00,000 Instagram followers is an influencer. In essence, it makes very little difference how many people follow someone. But, what really matters is the question that what is the number of people who interact with them. And how many people actually click on the links they send out?
If you crack this code, you'll definitely multiply your investment. The field of influencer marketing is booming today and there is a wide variety of influencers available, who have a varied target audience. To crack the code, you surely have to do your homework well.
And to make this easy, to almost diminish your struggle to find that one perfect influencer, we're bringing in an influencer marketing platform. This will be a platform where it will be us who will be doing the homework for you, studying your brand product and finding the perfect influencer for you. Additionally, we'll make sure we have our knots tied with these influencers, which will make your work, even more, easier as you won't have to bang your heads, trying to establish contact with that particular desired personality.
The wait isn't long, our team is focused and has been working sincerely to make this platform, the best and what we expect is, of course, the same love that you guys showered for Ytviews.
Ytviews Influencer Marketing Platform – 2023