How to get Trustpilot reviews
Trustpilot's rules on review requests are reasonable, but they're different from other platforms. When it comes to review requests, they're looking for impartiality. Continuing with the theme of impartiality, they ask you to use neutral language in your invitation. Finally, Trustpilot warns against offering review incentives or bonuses in exchange for a review. From Trustpilot's perspective, incentives include but are not limited to promotional discounts, monetary rewards, loyalty points, gifts, coupons, etc.  Long story short, don't reward customers for their reviews. Allow customers to reward you for a job well done (or share feedback on how you can improve). With that in mind, let's take a look at how you go about getting reviews from your customers on Trustpilot.  Every Trustpilot review goes through the following lifecycle. 
Consumer writes a review
Trustpilot robots scan the review looking for unusual patterns that indicate a fake review
Genuine reviews stay on Trustpilot
Once published, reviews can be flagged by companies and consumers (flagged reviews stay online if issues are addressed)
Reviews are shown chronologically

Trustpilot offers a variety of invitation methods you can use to request reviews from your customers.
Organic reviews
These are unsolicited reviews, feedback submitted by customers who took the initiative and reviewed a business unprompted.
Automatic invitations
These invites are automatically sent to customers after their purchase or service is completed. These reviews, once completed, are labeled in Trustpilot as verified. This includes reviews that are flagged as fake but provide documentation.
Manual invitations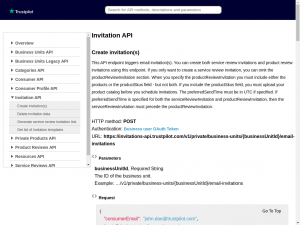 These are invitations sent via email or your own in-house review management system. Trustpilot also offers manual options for businesses that prefer this method.
Redirects
Some businesses post a link on their website that takes customers to their public Trustpilot profile. When customers follow through and write a review, their review will be marked as "redirected" in Trustpilot.
You can generate reviews by: 
Asking customers to review you
Sending an email invitation to customers after they've made a purchase
Embedding a link to your evaluation page on Trustpilot
Share a link on your website
Sharing a postcard with a link to your Trustpilot profile in your packages or mailing it out at the end of your service engagement
Reviewers are only allowed to comment on their experiences, and it should be an experience they've had in the last 12 months.  Trustpilot says only customers who have bought or ordered something, communicated with the business via phone, email, or live chat, visited the store, or used their products and services may review a specific company on their platform. If you own, have owned, or someone in your immediate family owns the business in question, you can't write a review. If you're employed by or work for the company, you can't review them; if you're a direct competitor, the same thing applies.  Reviewers are expected to follow a specific code of conduct on their platform. This means:
No writing fake reviews
Keep proof of your experience (purchase, messages, calls, etc.)
Be respectful and kind in your review
Keep private information private
Check the domain you're reviewing
Reviewers will need a Trustpilot account to post reviews on the platform.
Trustpilot receives less than mainstream platforms, but it's an essential stop for customers. Google seems to agree as 1.1 trillion ratings, and reviews are displayed in their search results annually. As we've seen, the main drivers are customer usage and search visibility. If both are important to your business, it's probably a good idea to add Trustpilot to your review management campaigns.