Elon Musk moves on to his next venture after Twitter. Here's more about it!
Currently, Elon Musk controls a little over six companies. The billionaire's most recent acquisition was Twitter, a microblogging platform. Musk purchased Twitter for $44 billion in October of this year, and since then, he has implemented several difficult reforms in the company into what he likes to refer to as "Twitter 2.0," a successful company. Musk has stated his willingness to buy another US-based startup and, this time, to compete with corporate media, even if he is still working to repair Twitter.
Elon is considering to add Substack to his shopping basket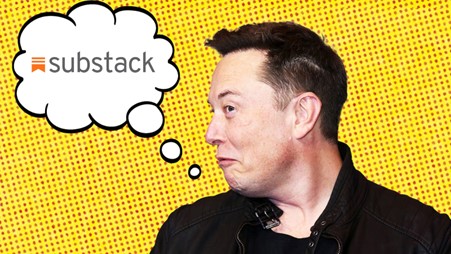 The purchase of Substack, a US-based online platform that offers publishing, payment, analytics, and design infrastructure to enable subscription newsletters, was mentioned by Musk in earlier comments to Twitter user Wall Street Silver. The online platform, which was established in 2017, enables authors to distribute digital newsletters directly to subscribers.
Musk had the thought after a Twitter user questioned whether it would be beneficial for Twitter to own Substake and further integrate the two services. Musk responded, "I'm open to the idea," in response. "Twitter with Substack generates instantaneously tremendous competition for outmoded traditional corporate media," the Twitter user said.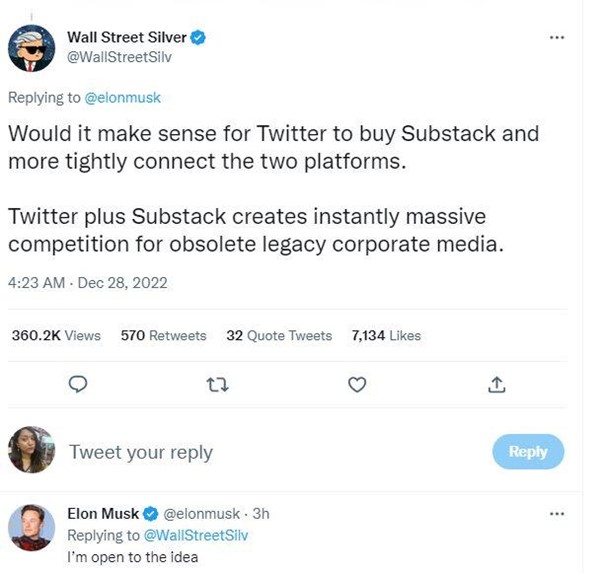 Musk's statement follows the muted coverage of the "Twitter Files" by mainstream and corporate media that He obtained from independent journalists. Why does corporate journalism rush to support the government rather than the people? In one of his most recent tweets, Musk remarked. Leighton Woodhouse, a freelance journalist and documentary filmmaker, said on Substack that "establishment journalists' attitude to the Twitter Files is that of a profession committed to preserving the state instead of exposing it." The Twitter CEO responded to Woodhouse's essay.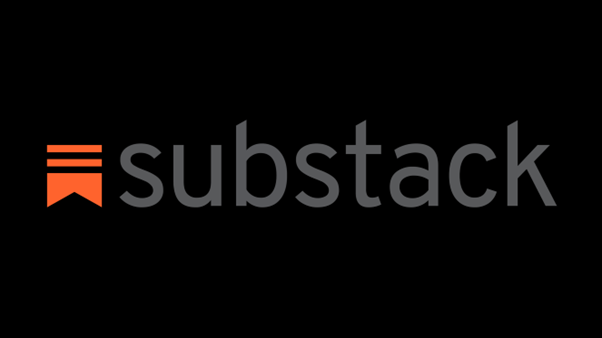 Given that Musk recently acquired Twitter for $44 billion, the likelihood of him purchasing Substack isn't currently extremely high. Including Tesla, SpaceX, The Boring Company, Neuralink, Twitter, and OpenAI, Musk currently owns close to six businesses. He is the owner and CEO of Twitter, the founder of The Boring Company, the CEO and chief engineer of SpaceX, the CEO and chief product architect at Tesla, and the co-founder of Neuralink and OpenAI. Although he is unwilling to offer the new Twitter CEO complete control, Musk is currently looking for a replacement. He recently stated that he is searching for someone to take over as CEO of Twitter, although he will continue to manage the software and server teams.