Be popular on Twitter by following these simple steps!
It's 2021, and Twitter influencers and celebrities are crushing it on Twitter with their witty and hilarious tweets. With 336 million active Twitter users, getting popular on Twitter might seem like a daunting task. Hence, in this blog today, we share some smart strategies with you that will help you get more followers and become popular on Twitter.
Share relevant and useful content
People come to Twitter to take part in conversations and consume content they're interested in. So to grow your followers, you have to make sure that your content appeals to your audience and adds value — whether that's Tweeting about sales, product tutorials, or current events. Tap into trending topics by checking out the Explore page, and by using keywords and hashtags that relate to your industry and audience.
The mistake many people make is to dive right into Twitter and promote their website in nearly every single tweet. This is a big mistake! You wouldn't do that in real life, so don't do it on Twitter.
The balance needs to be: more personal updates and fewer leads to things you want people to purchase.

Be authentic.
Followers trust that you are presenting yourself genuinely and this will only resonate where you give of yourself to other people. As in real life, it's important to be interesting and to be interested in others.
Provide your real name and occupation or interests. This builds up a bigger picture of who you really are and reassures your followers. Don't say anything that would bore yours follows. You need them to be "happy"
If possible, provide a link in your Twitter profile to work you're doing online or to something that tells more about you online (such as LinkedIn or Facebook).
Customize your Twitter photo and background. Twitter followers don't like seeing the standard Twitter bird as a photo – use one of yourself or something that identifies clearly with you. In addition, add your own colors and maybe even designs or photos to enliven the background of your Twitter page.
Post visual content
97% of people focus on visuals on Twitter, so adding media to your Tweets can help them stand out. Add a variety of visuals and videos to make your content more appealing and memorable. 73% of Twitter users don't find video ads intrusive and that's your chance to capture audiences and get them to follow you. If you can create amazing videos and promote them with Twitter ads, you can get popular on Twitter faster. Twitter ads are a great way to quick popularity on Twitter and you should not rule it out. Once you have a good number of followers, you can get organic engagement on your tweets without promoting them.
INTERACT AND RETWEET:
Twitter is about relationships and friendships.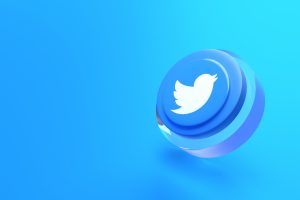 You can grow to know a lot of amazing people through your Twitter account just by interacting with them regularly.
Be sure to reply to all @ messages. If your name is mentioned, it means someone cares enough to include you, and it's important to acknowledge this by replying.
Retweet (RT) people's information regularly and with consistency. This is the lifeblood of Twitter, the sharing of information through retweeting. It's a form of respect and a way of acknowledging that the person being retweeted is sharing information worthy of retweeting about.
Communicate with Twitter users who are already popular. If they notice you and like what they see, they'll help you in your "social media climbing" by sharing your information with their followers and hopefully recommending you as well.
Leave your Twitter address with comments that you make on blog sites so that people can work their way back to the real you and learn more.
Follow and Tweet on the Latest Twitter Trends:
Tweeting on the latest Twitter trends ensures that your tweets are reaching the maximum number of people as a lot of them are following the trend. For example, if everyone's talking about crypto and you share tweets/memes on #crypto, you increase your chances of reaching a bigger audience.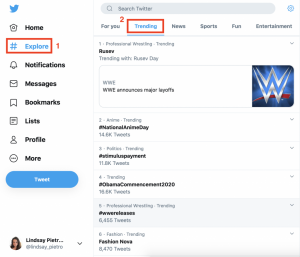 It's quite simple to find the most trending Twitter hashtags by clicking on Twitter analytics and clicking on the "trends" section under the "Explore" section of your Twitter app. You can also check the number of people tweeting on that particular trend to know if it's worth your time.
Provide information other people wan
t to know and share.
You'll only be retweeted and followed if you're providing a Twitter stream that grabs people's attention. Once you've established yourself as someone who shares certain types of information, be sure to keep providing fresh, fascinating, and curious updates.
Include links to interesting stories, news items, websites, recipes, etc. Also send links to photos, videos, and other visual treats for followers to look at.
Keep the updates flowing at a regular pace so that people know they can turn to you reliably.
If a disaster or major event happens in your locality or country, don't be afraid to switch to it in addition to, or in place of your normal tweets. Share updates and useful information such as phone numbers, emergency information, and shelter addresses, etc. People will readily share this information with your name on it, and you can easily end up meeting many people who are in the thick of providing emergency services, grateful for your support in getting the information out.
Build your popularity.
To be popular, you will need more and more followers, people who are retweeting your information, and singing your praises to their followers.
Follow people. Do this as a daily ritual by focusing on people you have things in common with. Use the Twitter search engine to find people with similar interests; key in words that are likely to make appropriate returns such as "Super Bowl", "vegan", "burlesque", "cheese", "mom", etc. Half the fun is in finding new people "just like you"!
Follow back those who follow you. Regularly add new people to those you follow, as well as regularly adding people who have added you.
Use automated follower adder tools if wished. If you decide to pay for more followers, be sure that there is a benefit in doing so, for your business, brand, or image, etc. For most individuals, payment is unnecessary; use your time and personal effort wisely instead.
Monitor your popularity using tools that tell you your popularity status. There are many tools available for this, and they can be focused on country, region, topic (such as "Top LA Tweeters", "Top Green Tweeters", etc.), or other elements you're keen to know about.
Run a followers' campaign
Alongside growing organic followers, you can accelerate your growth by running a followers campaign. Followers campaigns allow you to promote your account to a targeted audience, and you'll only pay when someone follows you after seeing your ad.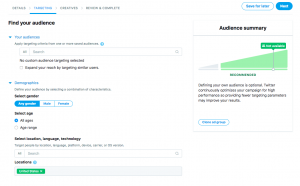 Consider running short campaigns to boost momentum or an always-on campaign to create a consistent stream of new followers.
Increasing Twitter followers for your brand requires experimentation and some time, but you'll see a big payoff in the long run.
Final Words:
Above are some of the best and most practical Twitter strategies to get popular on Twitter. Put these tips to use and boost your Twitter career.