5 Fundamental Foundations of Social Media Marketing
The Definition of Social Media Marketing: Social media marketing refers to using social media platforms to engage with your audience to develop your brand, boost sales, and increase website traffic. This entails creating engaging content for your social media profiles, interacting with your followers, tracking your progress, and running social media ads.
Facebook, Instagram, Twitter, LinkedIn, Pinterest, YouTube, and Snapchat are the most popular social media platforms at the moment.
Additionally, several social media management tools are available to businesses to help them make the most of the aforementioned social media platforms. A platform of social media management tools like Buffer, for instance, can aid in your success with social media marketing. We want to assist you in succeeding, whether your goal is to establish a brand or expand your business.
A brief Introduction to Social Media Marketing: Publishing was the first step in the development of social media marketing. Businesses shared their content on social media to drive traffic to their websites and, ideally, increase sales. But social media has evolved far beyond being a platform for content distribution.
Nowadays, there are a wide variety of ways that businesses use social media. For instance, a company that cares about what consumers are saying about its brand would follow social media conversations and respond to pertinent mentions (social media listening and engagement).
Using an analytics tool (social media analytics), a business that wants to know how it is doing on social media would examine its reach, engagement, and sales there. Highly targeted social media ads (also known as social media advertising) are used by businesses that want to reach a particular audience at a large scale.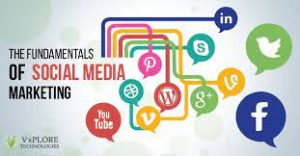 Collectively, these are frequently referred to as social media management.
1. Strategy: Let's take a step back and consider the bigger picture before you jump in and publish something on social media. Consider your social media strategy as a starting point.
How can social media assist you in achieving your business objectives? Some companies use social media to raise brand awareness; others use it to increase website traffic and sales. Social media can also help you build a community, increase brand engagement, and give your customers a way to contact you for customer service.
The major social media platforms, such as Facebook, Instagram, Twitter, LinkedIn, Pinterest, YouTube, and Snapchat, are listed above. Additionally, there are smaller, emerging platforms like Tumblr, Tik Tok, and Anchor as well as social messaging services like Messenger, WhatsApp, and WeChat. Starting, it is preferable to focus on a few platforms where you believe your target audience is present rather than trying to be everywhere.
A good place to start is to create a marketing persona, which will help you answer these questions. It will help you decide what kind of content you want to share, what kind of content will attract your target audience the best, what kind of content is images, videos, or links, whether is it educational or entertaining content, etc. And you don't have to stick with this approach indefinitely; you can always modify it based on the effectiveness of your social media posts.
Here are our comprehensive, step-by-step guides on developing a social media strategy and social media marketing plan to assist you in developing a great social media strategy.
2. Making Plans and Publishing:
The foundation of social media marketing for small businesses is typically having a regular online presence. Social media is used by almost three billion people (3,000,000,000). Your brand has a chance to be found by potential customers by being active on social media platforms.
It's as easy to publish to social media as it is to share a blog post, an image, or a video on a social media website. Like when you share something on your personal Facebook profile. Instead of creating and publishing content on the spur of the moment, you should plan your content ahead of time. Additionally, you need to post engaging content on social media at the right times and with the right frequency to make sure you are maximizing your reach.
The ability to automatically publish your content on social media at your preferred time is now possible thanks to tools like Buffer Publish. You can reach your audience at the time when they are most likely to interact with your content while also saving time.
3. Engaging and Listening:
Conversations about your brand will increase as your company and social media following expand. People will leave comments on your social media posts, tag you in theirs, or send you direct messages.
Even without informing you, people may discuss your brand on social media. Consequently, you should keep an eye on social media discussions about your brand. You have the chance to surprise and please them if it's a compliment. Otherwise, you can assist and correct it before the problem worsens.
You can manually check all of your social media platform notifications, but this is inefficient and won't let you see posts that didn't include a social media profile for your company. Instead, use a social media listening and engagement tool that compiles all of your mentions and messages on social media, even those that don't include posts that mention your company's social media profile.
4. Reporting and Analytics:
You'll want to monitor the progress of your social media marketing along the way, whether you are posting content or participating in social media. How many positive mentions do you receive each month, how many people use your brand's hashtag in their social media posts, and are you reaching more people this month than you did last?
A basic level of such information is offered by the social media platforms themselves. You can use any of the many social media analytics tools available, like Buffer Analyze, to obtain more detailed analytics data or to compare metrics across social media platforms.
5. Advertising:
Social media advertising is something you might want to think about when you have more money to expand your social media marketing. You can advertise on social media to a larger audience than just your followers.
The platforms for social media advertising are now so strong that you can choose exactly who will see your ads. Target audiences can be created based on a variety of factors, including demographics, interests, and behaviours.
Consider using a social media advertising tool to make bulk changes, automate procedures, and optimize your ads when managing multiple social media advertising campaigns at once.