4 ways to improve your Youtube ads
Need fresh ideas to improve your YouTube ad results? Wondering if tweaking your creative could help? In this article, you'll learn four tips to improve your YouTube video ad creative to reach your desired outcomes.
Show your brand name and logo at all times in your YouTube ads
Arguably the most common form of video ad on YouTube is the skippable TrueView in-stream and format. The way this ad type works is that viewers can skip your ad after 5 seconds of watch time. Advertisers love this format because they're only charged if a user performs one of these actions:
Watches at least 30 seconds of the ad
Watches the entire ad if the ad is less than 30 seconds
Clicks on any of the cards in the ads (call-to-action extensions, shopping cards, lead form extensions, etc.)
Because of this, you have the opportunity to earn a lot of free advertising. To capitalize on it, I recommend adding your brand name or brand logo to your video creative. It's up to you whether to make it bright and visible or subtle with a watermark. This can help improve the chances viewers will remember the brand name from the free video view if they decide later to go to Google or Bing and research the company. It's about stretching your video budget.
Remember, people go to YouTube to watch music videos, watch gamers, and be entertained. Even if they're not ready to buy right away, your video ad can still target a relevant user who may need your product or service later on. But it's hard to remember your brand if you're not telling them who you are or what your product is. Include your brand name at all times in your YouTube video ads.
Test a variety of different hooks in your YouTube ads
Because viewers can skip your TrueView in-stream ad after 5 seconds, those first few seconds are extremely valuable. Yes, viewers can skip that ad and free advertising is great, but you don't want everybody to skip the video ad. Using engagement signals is one of the ways you can see whether your YouTube video campaigns resonate with users.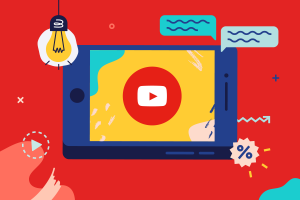 Just like any other paid media campaign, you need to constantly test your message. If you only have 5 seconds to capture a viewer's attention, you should try to find out what visuals or audible messages are going to make a user want to continue watching the ad.
If you're looking for ideas to test for your hooks, here are a few questions you can ask yourself or run by your team:
Does the audience prefer humor?
Does the audience want serious ads that get straight to the point?
Do we strike them with a little fear?
Which proof points or value statements help engage the audience the best?
YouTube clearly loves viewers to stay engaged (which means you'll pay for your video views more often) but an engaged viewer is always worth it if you can get them into an audience and use those audiences in your next-step remarketing campaigns.
Test completely different types of YouTube video creative
Sometimes video asset tests with just a few minor differences can be very successful. Other times, you may not get a clear understanding of which element of the video had the biggest impact. That's why it is recommended to test completely different creatives when launching a new campaign.
With two completely different types of videos, you'd be testing more than just the first sentence of the video, a call-to-action statement, or a potential actor. You'd be testing two entirely different videos against each other. Testing completely different assets will help you truly learn what will have the biggest impact on your audience. This can also help you avoid running the same types of ads over and over until they become stale or annoying to your target audience.
Unlist video ads on your YouTube channel page
To run ads on YouTube, all of your video assets must be uploaded to YouTube. If you don't properly edit your video settings, you may fill up your YouTube channel's feed with a bunch of ad variants. That could be very unappealing to users if they think your channel only exists to sell. You don't want to hurt any of your organic YouTube efforts.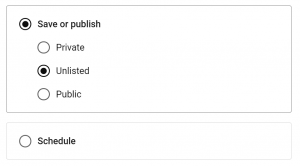 If you're planning on testing a variety of video ad creative, you can hide your video ads from your YouTube channel by changing the video's Visibility setting to Unlisted. When your YouTube video is unlisted, it will be hidden from your YouTube channel. Users may still see your video if:
They have the URL to go directly to the video's watch page.
Someone shares the link to the video URL.
You use the video in an ad.
This is the best way to test a bunch of different video creatives without clogging your channel with different variants of the same ad.
If you hate seeing the same TV commercial over and over again, what makes you think your potential customers want to see the same YouTube ad for months on end? You can't have one video creative running for months and expect success. You have to be able to test different creatives to keep trying to improve performance.
Testing is the best way to figure out what YouTube video creative your target audience wants to see. Whether you're focused on brand awareness or engagement, you have many options you can test in your video creative to see what appeals to your audience. While there's no way to predict performance from testing, the insights you gain can help you develop a hypothesis of why you think certain video creatives will work to reach your business goals.