4 creative ways to grow your Instagram using Pinterest
Getting more Instagram followers isn't as easy as it used to be, but did you know one of the best ways to grow on Instagram is with Pinterest?
Thanks to its link-friendly nature, Pinterest is a fantastic channel for increasing referral traffic, which can result in some serious Instagram engagement and more followers. Ready to get pinning? Here are 5 great ways to grow your Instagram with Pinterest:
Claim Your Instagram Account on Pinterest
Claiming your Instagram account on Pinterest comes loaded with benefits — you get access to more robust Pinterest analytics (including data for every action taken on your Pins, across all of Pinterest) and attribution on any Pins that originate from Instagram. But it can also drive more traffic to your Instagram account!
Similar to a claimed website, once you claim your Instagram account, your Pinterest profile will be displayed on any Pins created from your Instagram content. Basically, what this means is if you or anyone else creates a Pin using content from your claimed Instagram account, your profile picture and a "Follow" button will appear above that Pin.
This is a great way to get more monthly viewers to your Pinterest profile and click-throughs to your Instagram profile. Plus, since Instagram posts have a fairly short lifespan, by claiming your Instagram account on Pinterest and then pinning your Instagram posts, you can drive more traffic and engagement to your Instagram content over a longer period of time.
Publish to Instagram First, Then Pin to Pinterest
If your goal is to grow your Instagram account, you should publish your content to Instagram first. Then pin it to your relevant boards on Pinterest — this ensures that you'll get proper attribution. To do this, log into your Instagram account on your desktop, navigate to your Instagram profile, and then open a particular image to grab the post's URL — that's the link that you're going to pin to your Pinterest board.
Once you've curated a gorgeous board with your Instagram posts, you'll see your Pinterest referral traffic climb.
One of the biggest keys to success on Pinterest is quality over quantity. Post your best and most on-theme Instagram content to your Pinterest boards. Recipes, infographics, and visuals with text overlays tend to perform really well on Pinterest, so if you're posting a multi-image post to Instagram, consider creating a Pinterest-optimized graphic of all the photos together in one image.
Then you can pin the image to your board, but link back to your original Instagram post for more context in your Instagram caption, making awesome custom content that works for both platforms.
Let SEO be your friend
Pinterest can be an SEO machine when used properly — in fact, at its core, Pinterest is sort of a visual search engine. So how can you benefit from Pinterest SEO? 
The trick is to add relevant keywords on Pinterest that are specific to your business, and aligned with what your target audience is searching for — the same way you create content that's optimized for relevant keywords on your blog or website.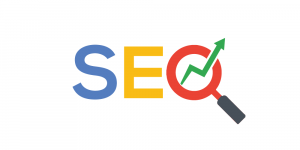 There are multiple places you can include SEO keywords, but one of the most important places is your Pin title. Your keywords here should cover as many bases as possible as this will help your Pins get into your audience's search results. You should also include keywords in your Pin descriptions, alongside relevant search hashtags.
And while there's no hard-and-fast rule, high-traffic Pins tend to include between 5-10 keywords and 3-5 hashtags.
Cross-Post Your IGTV Videos to Pinterest
Another strategy to grow your Instagram using Pinterest is to cross-post your IGTV videos to Pinterest.
It's no secret that videos perform really well on Pinterest — in fact, there were 6 times as many video views on Pinterest in 2019 than in 2018. The reason for their success is that Video Pins allow brands and businesses to share so much more on the platform. From authentic storytelling and product demos to tutorials and recipes – the options are endless.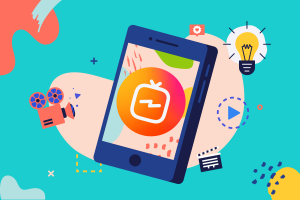 And with that added value, it's more likely that users will save Video Pins to one of their boards for others to see and share. A great way to benefit from all of this while driving traffic and interest back to your Instagram account is by repurposing your IGTV videos for Pinterest.
Not only is it super easy to do but it's a great way to get more out of all your amazing video content. Just keep in mind that Pinterest videos have a maximum length of 15 minutes, so depending on how long your IGTV videos are, you may have to give them a trim.