Ytviews presents: Pro platform for premium clients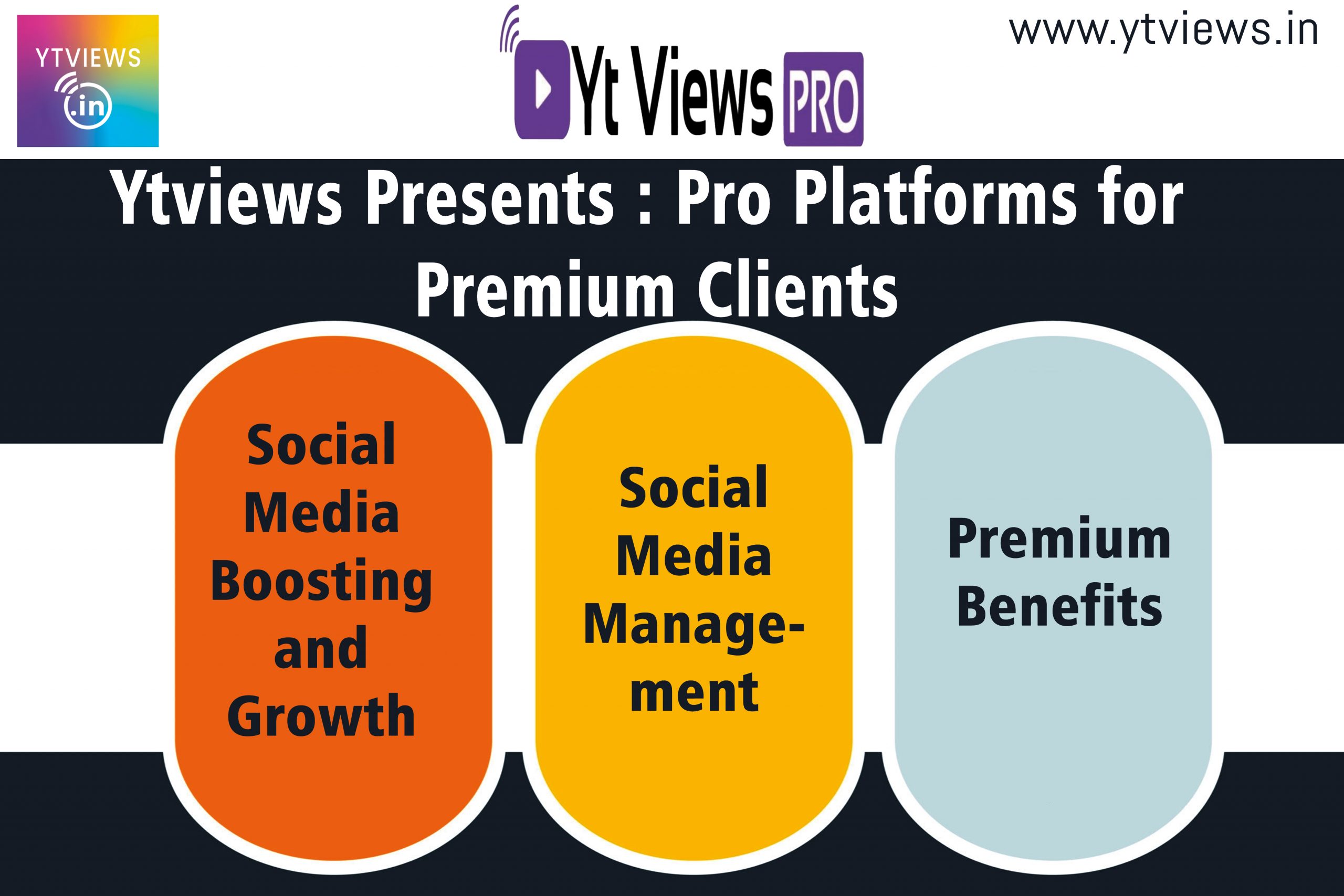 Ytviews has always been equally attentive to all the clients, because of which today, we are the leading platform for social media marketing. We offer real-time viewership and subscribers on platforms such as YouTube, Instagram, Facebook, Twitter, LinkedIn, Snapchat, Spotify, Tumblr and many more on our base platform. We, as a company, aim to help beginners and new joiners to reach their social media goals, in the shortest time possible and with one hundred per cent credibility. We assist our customers to enhance their reach on a global basis as we understand the importance of a solid base on social media platforms in today's generation. 
However, Ytviews Pro would be a bit more elite. It is a platform designed for the already established giants, who are looking for modern-day technologies to find themselves at the top of their social-media game. Here are the services that we will be offering to our clients:
Social Media boosting and growth
The main motto of our company is the success of our customers and we guarantee 100% real, authentic and reliable followers and likes with a 100% money-back pledge. We provide followers, likes, as well as authentic comments, and boosts. We possess a customer support team that is live 24×7 and always available for the assistance of our customers. The views we provide are high-retention views that will guarantee to majorly assist you in the monetisation of your YouTube channel. Adding icing to the cake, our starting package is the lowest in the market, hence making us the customer-favourite agency.
Social Media Management
Social media management is the process of analyzing social media audiences and developing a strategy that's tailored to them, creating and distributing content for social media profiles, monitoring online conversations, collaborating with influencers, providing community service, and monitoring, measuring, and reporting on social media performance and ROI.
The business potential of social networks is immense. Brands can leverage social media platforms to successfully drive their objectives across the marketing funnel, from raising brand awareness to increasing store visits. But to be able to accomplish this, they need efficient social media teams. And this will be the exact role that we will be offering on platforms such as Instagram, Facebook, LinkedIn and Twitter.
Premium Benefits
We acknowledge the importance and impact that our premium clients hold in the market and we would be having multiple premium benefits on our Pro Platform which will include :
A designated team for each client for organised and systematic management,
A different backend team that would deal with queries and customer support, 24×7 would be assigned to every client,
A Social Media manager who would work on innovative and effective ways for increasing audience engagement and
many more premium perks and benefits.