YouTube Premium adds more perks with Share Play support, higher quality video and more
Several new features are being introduced today for YouTube Premium, the $11.99 per month ad-free version of YouTube, to lure and keep users. The subscription package will now, among other things, offer co-watching videos on FaceTime via Apple's SharePlay, higher-quality video for web and iOS users, and various tools for managing your queue on mobile devices.
Since many users are unaware of the features that YouTube Premium offers beyond removing advertisements from YouTube, the business feels that having a wider feature set will help it to effectively market the membership to customers. The debuts coincide with other recent upgrades, such as the ability to pick up where you left off with your video viewing on any device and a "smart downloads" feature that automatically saves suggested videos for offline viewing. Along with iOS and Android users, web users can now access this latter capability.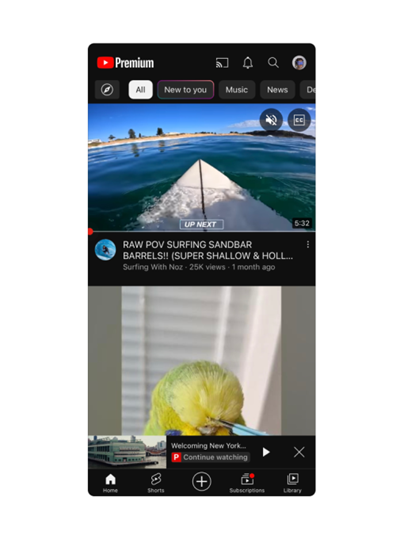 While many of these prior features had enhanced YouTube Premium more quietly, operating in the background where they might go unnoticed by the user, the recently revealed improvements of today will be more prominent in the viewing experience.
HD video quality for premium users
In the next weeks, YouTube will start rolling out an improved bitrate version of 1080p HD video quality to its Premium users first on iOS and later online. It will initially be made available online as an "experiment." To be clear, this is not one of the experiments available to YouTube Premium users that give them access to test out new features before they are made available to the whole public.) While 1080p will still be available to all YouTube viewers, the improved 1080p setting will, according to YouTube, make all videos look "extra crisp and clear," particularly those with a lot of motion and detail, like sports and gaming.
Shareplay for only premium users
Support for Apple's SharePlay, which was first unveiled at the company's World Wide Developers Conference in 2021, is another important inclusion. Although rival video services like Disney+, Hulu, HBO Max, and TikTok have long supported SharePlay, YouTube will restrict access so that only paying users can enjoy the co-viewing feature. Because TikTok, a competitor, was one of the first services to enable Apple's co-watching function for FaceTime customers, the new service occupies a distinct market from TikTok.
Of course, SharePlay is now somewhat like a pandemic-era solution for bringing together people who can't physically meet. Netflix, for example, allegedly banked on dwindling usage for lifting COVID limitations and never even tried to offer its official co-viewing alternative. It's therefore intriguing to see YouTube try to position SharePlay as a "perk" rather than a normal feature, especially given that its in-house co-viewing tool within Google Meet currently enables YouTube co-viewing for all users without the Premium subscription. (YouTube says Premium users are the only ones who can initiate in Google Meet, but anyone including non-subscribers can view).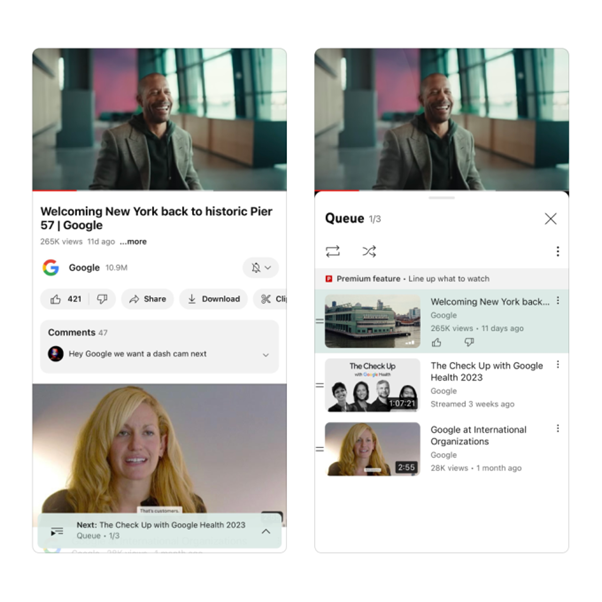 More control over video queue
When you have a YouTube Premium subscription, another new feature gives you more control over your queue. When watching on their phones or tablets, Premium subscribers can now add videos to their queue. While free YouTube users can currently store videos in playlists, including "Watch Later," users can choose which video they want to play next using the queueing feature.
The additions join existing YouTube Premium features including background play for watching when the device is closed, offline downloads, and access to YouTube Music Premium, in addition to ad-free viewing.