Why is Social Media Engagement tough: Learn with Ytviews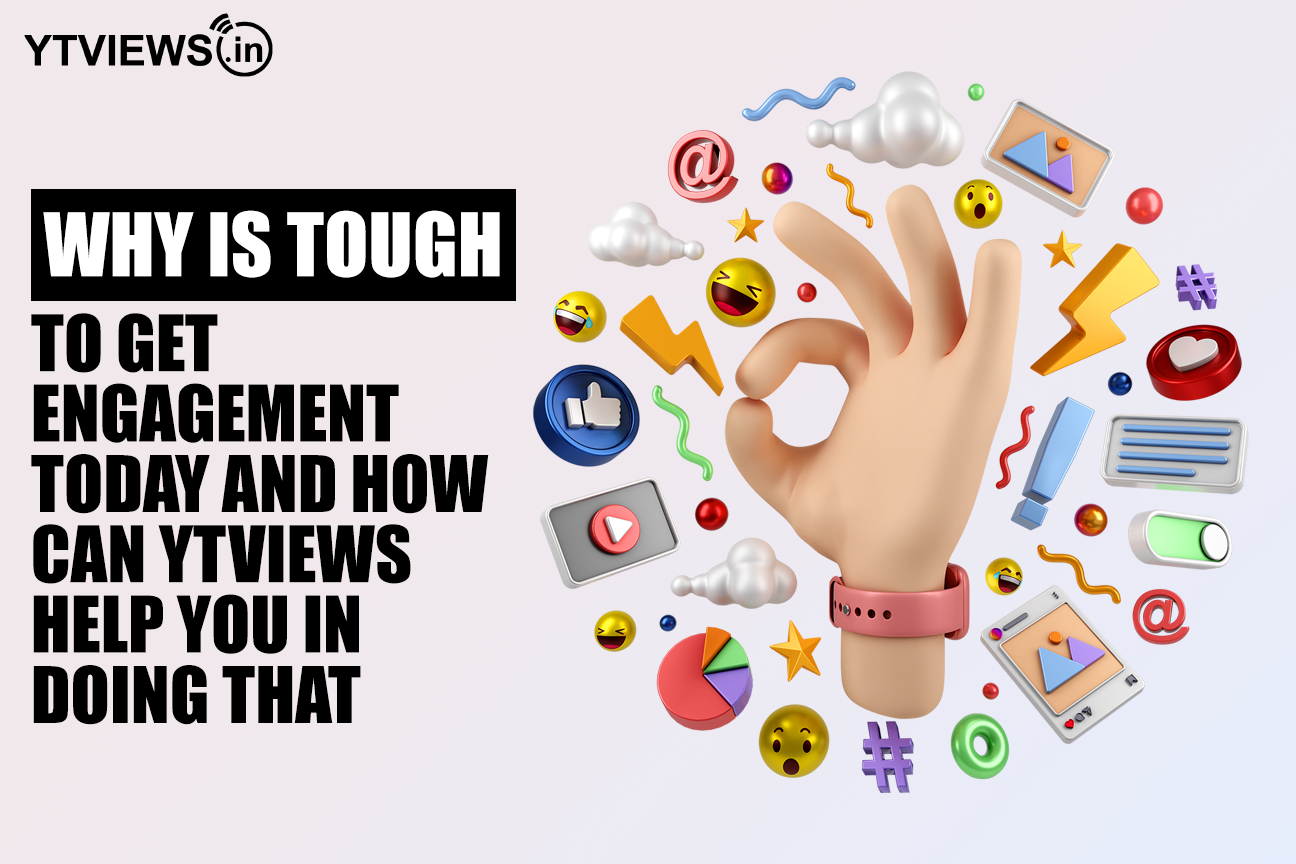 Social media is just media without engagement. Social networks are not used for a one-way experience. They are looking for connections, both with brands and with people.
What started out as a way for people to connect with their friends online is now a place where brands can have meaningful conversations and make followers and customers from those conversations. Additionally, engagement on social media has a significant impact on small businesses, influencing everything from brand recognition to customer loyalty.
What is Engagement on Social Media?
A measure of how people are interacting with your social media accounts and content is social media engagement. The term can be used to describe a wide range of social media activities.
Examples of engagement include:
– Likes and Favorites Comments
– Direct Messages
– Replies, Shares, and Retweets
– Saves
– Clicks
– Mentions
– Engagement
7 Reasons why your Social Media is not Engaging your Audience:

1. You're Not Optimizing Your Content: If you don't optimize your content, even well-written content can only go so far. Optimize your content for each social media platform where you post it to ensure that it reaches as many people as possible. Add relevant hashtags, for instance, to your Instagram and Twitter accounts. Make use of the right keywords if you're on Pinterest. Make sure your photos are the right size for each platform. What works on Facebook and Twitter may not necessarily work elsewhere.
2. Nobody Replies to DMs or Comments: Many customers and potential customers use social media to contact businesses. However, no one responds to direct messages or comments. Your social media engagement may suffer if you are unable to address their concerns or respond to their inquiries promptly. Hire a third-party company or agency to monitor comments and messages if no one in your company is capable of doing so. Additionally, you should not disregard criticism. To avoid the ire of the netizen, address it courteously and appropriately.


3. You Are Not Including a Call to Action (CTA): CTAs Are Effective You are missing out on opportunities to increase social media engagement and conversions if you are not using them. CTAs can be used in a variety of ways, but you should always include them in your social media posts, emails, landing pages, and static pages. What do you hope to accomplish with that page or post?
Consider these CTAs:
– Join our Facebook group!
– To subscribe, please click here.
– Read our most recent blog post.

4. Your targeting isn't precise enough: If you're running paid social media ads (which is great for you!), Then there is one thing you need to know: Important is targeting. The entire ad will fail if it focuses on the wrong audience. Naturally, you might not understand everything the first time you run an advertisement. You probably won't, in fact. That is fine! As a result, monitoring your metrics and analytics is critical. You will learn how to modify and enhance your strategy using this data. Data is vital. Spend money strategically. By analyzing your data and putting it to use to improve your subsequent campaigns and strategies, you can ensure that every penny is well spent.
5. You Are Not Distributing Blog Content: Keeping a blog is necessary for SEO. Posting a link to your articles, on the other hand, can help increase audience engagement as well as increase traffic to your website.
6. You Aren't Using All of the Content Types: Social media posts can include more than just text and images. Videos, GIFs, and slideshows are just a few of the many other formats you can use to get people's attention and participate. Do not be afraid to try new things. No one can tell what will work.
7. You Don't Give Credit to Other People's Work: When you share user-generated content, articles, or other useful content that you didn't create, you should always give credit to the person who created it. Relationships can be strengthened, engagement can rise, and contentment can be maintained—especially among those who shared the content in the first place. Your content may be the difference between success and failure on social media. It can also become very competitive due to the large number of businesses that use it to connect with their target market, which is exactly what you want to do. Producing high-quality content that people actually value is one way to stand out.
How can Ytviews Improve Engagement on Social Media?
One of the world's best tools for Social Media Branding and Marketing is Ytviews. You can advertise on YouTube, Instagram, Facebook, Twitter, LinkedIn, and other well-known social media platforms with Ytviews. The global social media branding company YTVIEWS has more than ten thousand active clients in more than twenty different nations. Ytviews digital media Pvt Ltd. is a 2017 startup that has been certified by YouTube and is a Facebook partner. Its parent company, YTviews online media LLC, is based in Dubai. The Alexa rank of the top 50,000 websites worldwide.
Users of Ytviews receive Assistance in the Following Ways:
1. By increasing your channel's viewership and subscriber count, ytviews can be of assistance.
2. Ytviews also introduces content to organic traffic, giving your channel the exposure it needs in this highly competitive market.
3. Because it is connected to numerous global video-sharing and social networking platforms, Ytviews can provide you with traffic and views from a variety of networks; YouTube has acknowledged that Ytviews traffic is entirely genuine.
4. Your video will begin to gain traction after a few hours as a result of campaigns created by Ytviews.
5. Marketing on YouTube, Facebook, Instagram, Google, Linkedin, Twitter, and many other platforms is just one of the many services that Ytviews provides.
6. In addition to regular data reporting, Ytviews provides a variety of tools for assessing your Google Business and promoting your social media campaigns.
7. You can get data for some of the most important indicators, like views, comments, and likes, with the help of Ytviews.