Top 9 Social Media Trends for 2023 to Grow your Business
When it comes to expanding your audience, using content distribution wisely, or building a community around your brand, social media offers a ton of opportunities. It is where you will find people who will interact with your content and perceive your brand, making it one of the practical marketing platforms. It has built-in analytics, which sets it apart from other marketing strategies and provides you with a succinct, clear picture of your initiatives.
With this in mind, it is reasonable to assume that social media platforms are quickly taking the top spot among advertisers. The year 2023 is about to begin, and discussions about social media strategies have already gotten off to a strong start.
But before you go ahead and improve your social media design, it's important to monitor the trends that will have the biggest influence.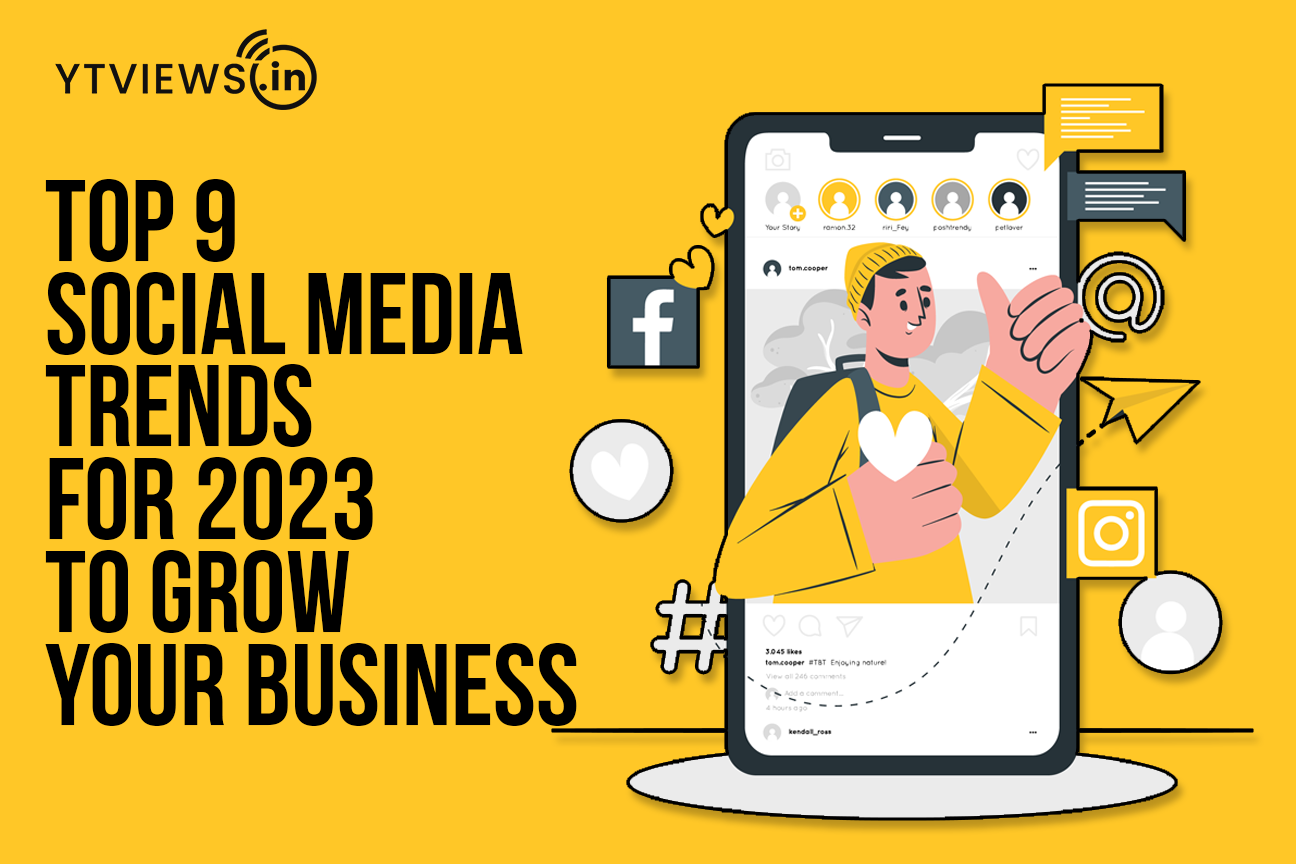 1. Customized Content: Anyone who enjoys viewing irrelevant content online is unlikely to exist. Let's just say that you shouldn't just consume anything when you have the freedom to choose. Presenting them will become difficult as audiences demand more individualized content online. Nevertheless, it will also benefit the most. The last thing you want is generic content that offers no value when you want people to engage with your brand.
Anything unusual that has fascinating news, knowledge, or a related story usually resonates with the public. Almost 3 out of 4 visitors will stop engaging with your website or social media platforms permanently if they don't provide what they are supposed to.
A significant social media trend is the development of more personalized content presentations. As these platforms develop, the features that help the business will become more tailored, so you need to stay on top of that. Utilizing analytics data, you can direct your graphic designers and marketers in creating more relevant and individualized content for their audiences.
As new techniques for content distribution and marketing strategies emerge over time, they can significantly boost marketers' creativity levels.
2. Platform Feature Crossover:  Overlapping social media platforms to promote an event or a launch is becoming more popular these days. For e. g. To engage their audiences on both platforms, you may have seen brands using the live video features of Instagram and Snapchat. The same issue arises with Instagram, Facebook, and WhatsApp's story features. Although the content may be the same across all of these, the reach and audience engagement are the key areas where they differ.
Your brand may have a wider audience on Instagram, in which case you can use stories to inform your audience about a new product launch or to share a photo of your office. This is where social media overlapping comes into play; after all, wouldn't you like the audience on your Snapchat to see the same?
Overlapping Platform Features:
~Instagram performs the best, in the opinion of many social media influencers, when it comes to living viewing of their stories. Daily viewership is roughly 10% higher than on any other platform.
~ On the other hand, several people have stated that Snapchat has had success in attracting a younger audience.
~ Brands and marketers will need to become more selective about which platforms they invest in as more platforms offer comparable features.
Utilize analytics and reporting tools to determine which social media platforms will provide you with the best return, and plan your social media design with the aid of social media templates for a quick creation.
3. Social Listening and Online Communication: In front of a good listener, everyone enjoys opening up, and that is the very essence of social listening. You can identify the users who want to interact with your band frequently using data, and you can then get in touch with them.
More people bringing up your brand during the conversation will boost your social media presence. This is much more effective than spending time learning what your rivals are doing. Allowing direct communication with others demonstrates your approachability and your interest in feedback and suggestions. Having a strong brand identity would benefit your business.
Broader mentions and messaging make it simple to see additional metrics in your analytics and social media benchmarks, such as conversions, sign-ups, cart fulfilment, and other things. All experience substantial growth.
Electronic mail.
You can gather information for your marketing strategy by using web monitoring. You can safely expect to see a bright expansion of your brand on social media when you start responding to your customers' queries. Additionally, it can reveal what your target market dislikes about your brand.
It might be a specific product or the topic of the recent videos you've posted. You can use social listening to your advantage in your content strategy by getting useful information about the performance of your competitors and your audience.
4. Profit from Videos: Video content will only become more prevalent online and may be the most effective social media hack. As a result, you need to incorporate it more into your strategy. In 2023, video content will continue to grow in popularity, increasing engagement and assisting you in gaining a sizable following.
Particularly on Facebook, video content is well-liked. You can see that a sizable number of people are liking, share, and commenting on them. Additionally, it gains popularity the more they do. You can find out how your video content is performing in comparison to your rivals and other posts by using Facebook's reporting feature.
Reading suggestions:
~ Every small business should pay attention to these 7 social media and email marketing tips.
~ The Top 9 Social Media Tricks for Small Businesses to Increase Lead Generation.
How Can Your Small Business Best Utilize Social Media?
More people are watching videos now than at any other time due to increased mobile usage and internet accessibility. The majority of customers are between the ages of 18 and 34, who may make up half or even more of your typical clientele. Create some amazing videos to engage your audience, then go out and brainstorm some original ideas.
Use videos to your advantage: A website with video attracts users who stay on it for an average of 88 per cent longer, and landing pages with videos have been shown to increase conversion rates by as much as 80%.
Including your key information and selling points in video format when marketing a service or a product could be a great way to increase sales.
Additionally, making high-quality video content for your social media channels and advertisements will help you avoid getting swept away by the wave and keep you on top of it.
Brands can create video content and share it instantly with their followers using Instagram Stories and the entire Snapchat platform.
Video is undoubtedly becoming more and more significant. For your business in 2023, it may be crucial to be able to produce that kind of content using a media kit maker.
5. Adaptive Social Media Content: If your social media content isn't responsive, you should start thinking about how you can adapt it to work on mobile devices. This is due to social media platforms like Facebook quickly converting to a mobile-only format. By 2023, it is anticipated that more than half of Facebook's current users will exclusively use its mobile or app features.
Consider all the mobile users you could interact with since mobile ads account for almost 80 per cent of the company's revenues. Consequently, having responsive social media content is crucial. Responsive social media content.
When something is responsive, it means that the user experience is the same regardless of the type of mobile device being used—a tablet, a phablet, or a small-screen phone.
If you look at other well-known social media platforms like YouTube, Whatsapp, Instagram, Snapchat, or Snapchat, they are all quickly adjusting to mobile requirements. Facebook is a huge social media platform, so it won't be long before it is only accessible via mobile devices.
6. Utilizing Influencers: If you treat your influencers more like equal partners than as someone who has been asked to deliver a marketing campaign, your brand may attract more followers.
For example, look at Netflix in India. g. The company is doing a commendable job by enlisting stand-up comedians and Indian YouTubers who are well-liked by its target audience.
It is undoubtedly a good idea to enlist the aid of influencers to raise awareness in the social media sphere. You can closely collaborate with them and produce pertinent content for your business, whether they are bloggers, video producers, or digital brands.
Influencer leveraging: There aren't many influencers who can boost ROI in addition to driving awareness. You must create an influencer marketing strategy that will produce a high return on investment for your brand. Mega, micro, and macro level influencers who can work with your brand to produce textual or visual content that appeals to the target market.
7. Instagram Stories' Use: Instagram polls and stories have become very popular this year. Over 200 million people, or more than 50 million more Snapchat users, reportedly use Instagram Stories each month. By the beginning of 2023, almost half of all Instagram users will be using Stories, if things continue in this direction. Therefore, you should start learning the secrets of Instagram Stories if you're interested in connecting with Instagram users.
Users of Instagram Stories can upload images or videos that are viewable by all of their followers for 24 hours before they vanish. With the addition of filters, stickers, location tags, and other useful features first popularized by Snapchat, the platform has gradually modified the functionality of its stories feature to almost exactly match Snapchat's.
Instagram Stories: The difference with Instagram, especially from a business standpoint, is that you post your stories to an audience that you have already built through your photo content, meaning you have a ready audience of interested potential customers or viewers to consume your stories.
Additionally, you can design your website so that it can display your Instagram and social media posts. With Instagram, your audience is already there, unlike with Snapchat, where you must actively promote your account and convince users to follow you to view the content you're producing for this use.
8. Live Streaming: The popularity of live streaming will soar in 2023. Instagram, Facebook, and Twitter all allow you to live stream to your followers either as a personal account or as a Twitter, demonstrating how hard all major social media platforms have worked to integrate live streaming functionality into their platforms.
Facebook provides you with a simple live-streaming feature that will let your followers know you're online. For you to broadcast live to your audience, Twitter partnered with the popular live-streaming app Periscope.
Streaming lives: What's most exciting, though, is that Instagram has just recently developed a feature that lets you work with another account to do a joint live stream, in addition to the standard live streaming functionality. If your brand is on any of these platforms, whether you are following Twitter trends or Instagram Reels, you will be able to live stream to your audiences. We forecast that live streaming will generally become much more popular next year due to social media platforms' support and encouragement of this type of content.
9. Using Social Media as a Tool for Publication: Social media platforms are looking into ways to give users more options than just content sharing by letting them publish their content. With more businesses using the platform to boost their B2B marketing through influential articles, LinkedIn has become more and more popular as a publishing outlet over the past year.
Societal Media: The linking features that allow users to swipe to read articles on Snapchat and Instagram are also evolving. Additionally, Facebook's Instant Articles feature is growing in popularity as more content producers use it to publish their articles directly to the Facebook App.
Conclusion: The focus of content marketing is no longer limited to producing excellent website content. Utilizing social media as a publishing platform is a successful way to reach consumers where they already are with your content. Social media offers businesses a plethora of chances to interact with their customers, produce and share better content, and increase their fan base. You must realize that these shifts occur frequently in order to take advantage of all that opportunity, making it imperative to stay on top of social media trends.
If there are any trends that we missed, please let us know in the comments section.