Tips for making Instagram Collab posts
With an Instagram collab post, two users can share the same post in their own Feed or Reels. This feature was launched as a test feature in select markets in June 2021. It was then released to the general public in October 2021.
Collab posts are a powerful tool that everyone in social marketing should know about. They're designed to reflect the ways creators and users actually interact with content. This article provides you with concrete ways to carry out Collab posts on Instagram. We'll help you get the most out of Collabs for your brand.
Collaborate with influencers and content creators
Collabs posts are a great way to coordinate your brand's Instagram presence with the influencers promoting you.
The share of social media marketers using influencer marketing has been rising steadily since 2019. Instagram Collab posts help highlight this important part of your marketing activities.
Just remember that Instagram Collabs doesn't take the place of a branded content label. If you have a creator account that uses the branded partners feature, you still need to label your spon-con to stay compliant with advertising regulations.
Create Instagram Collab posts with other brands
Collaborations between brands are a natural fit for Instagram Collab posts. Group promotions let two brands pool their resources. This way they have a greater reach than any individual marketing push.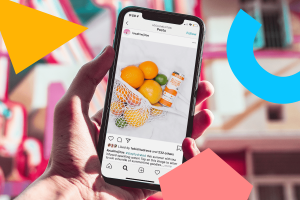 Brand-on-brand collaborations can also make your prizes and giveaways more attractive. Combine your product with a complementary brand and watch your engagement take off. Use Instagram Collabs to make sure you and your partner are maximally discoverable. You can also collaborate between different parts of your brand's online presence.
Send shouts-out for user-created content
User-generated content is already an important part of social marketing. Collabs takes the advantages it brings to another level.
Earning your audience's trust is critical for successful social marketing. And the appearance of authenticity that posting user-created content creates is an effective way of getting that trust.
Crediting your audience when they create content for you highlights its authenticity for other users. It also drives engagement. After all, who doesn't want a shout-out from their favorite brand?
Tag contest winners with Collabs posts
Turn user engagement into content by highlighting Instagram contest winners in your Feed.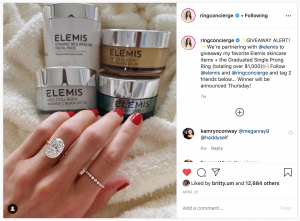 Show that real people are winning your contests and encourage engagement. Tag contest winners in a Collabs post to connect with the people who want your product.
Keep Collabs targeted
Each Collab post can only have one other collaborator. They also have to be manually approved by the other party. This makes the feature best for close, intimate collaborations.
If you're looking to get large numbers of people involved in a single post, it's best to use a feature like user tags or hashtags.