The 9 Notable Trends in Digital Marketing
As a result of user demands, digital marketing is constantly evolving. By implementing lockdowns and altering consumer behaviour, Covid's arrival in the digital market in 2020 completely changed it. This has been accompanied by the virtual collapse of just-in-time delivery as well as the disintegration of numerous shipping chains. Due to these adjustments, digital marketing is now more important than ever, with clear trends in this post-Covid world and beyond.
1. An Increase in Chatbot Usage: Over the past few years, there has been a noticeable increase in the use of chatbots because more people are conducting their research online and because many people are reluctant to visit physical stores.
Naturally, this isn't just a result of rising demand. The user experience provided by chatbots has greatly improved in recent years as they have grown more lifelike and realistic. Additionally, improvements in natural language processing (NLP), machine learning (ML), artificial intelligence (AI), and customer sentiment analysis have all increased chatbots' capacity to communicate in a more human-like way. Because of this, businesses are improving how well they serve customers without having to significantly increase their investment.
Eighty-eight per cent of users had at least one chatbot conversation in 2021, according to Tidio. According to their survey, chatbots are used in a variety of fields besides customer service and marketing, including data collection, human resources, and operations. They are currently a desirable option for B2B businesses, real estate, healthcare, and eCommerce stores.
2. The Popularity of Conversational Commerce is Rising: Customer experience (CX) is getting a lot more attention lately. If they experience a quality product or service, many customers are more willing to pay more than they would if a company was only selling it for the lowest price. The customer experience can be enhanced by conversational commerce.
At each stage of the sales funnel, conversational commerce (also known as conversational marketing or chat commerce) markets products, interacts with customers and provides support. Examples of such platforms and messaging apps include WhatsApp and Facebook Messenger.
~ Trends in digital marketing: Businesses are learning how frequently their customers use messaging apps. To interact with brands in this way, much like they do in many of their interactions is seen by many people as a natural evolution. As of the beginning of 2022, WhatsApp alone had about 2 billion active users.
3. Voice search is becoming increasingly popular: Generation Z in particular has never been a big fan of typing. Sure, they grew up with digital devices, but if they can avoid a keyboard, they will. Voice search capabilities are increasing to the point that it is now the preferred input method for many. Amazon's Alexa, Google Assistant and Apple Siri have become increasingly part of everyday life. In 2018, PWC found that people used voice commands on their smartphones (57%), tablets (29%), laptops (29%), desktops (29%), speakers (27%), TV remotes (21%), car navigation (20%) and portable devices (14%). And voice search has undoubtedly grown significantly since then.
~ Using voice commands: Surprisingly, younger generations aren't the only ones discovering the ease of voice search. For example, 65% of 25-49-year-olds with voice-enabled devices talk to them at least once a day, as do 57% of those over 50. Gartner found that in 2020, 30% of web browsing sessions were screenless. This signals a shift in how consumers interact with brands online.
Voice search users are increasingly looking for local results. According to Google, the number of searches for "near me" stores has increased dramatically in recent years. Google reports that 58% of consumers have found local businesses using voice search.
Therefore, businesses need to adjust their SEO to optimize for voice search. Methods include using natural language with direct answers to specific questions, schema formatting and rich snippets, updating My Business listing and eCommerce store data, and ensuring all content are optimized and up-to-date.
4. Towards Omnichannel Digital Marketing: Brands are discovering the benefits of creating campaigns that span a range of digital marketing channels. This allows them to reach a wider audience. Additionally, most people don't limit themselves to just one digital channel, and omnichannel marketing allows brands to leverage the strengths of multiple channels.
The key to omnichannel marketing is to use all of your channels to create a cohesive experience for every customer. Indeed, true omnichannel marketing is not limited to digital marketing. Instead, it's incorporating some traditional marketing channels into its mix, recognizing that people aren't 100% digital yet. Each channel works together to create a unified voice and message for the brand.
Omnichannel marketing recognizes that consumers use different channels at different stages of their day. For example, they can start the day by looking at Facebook before moving on to Instagram. Then they can check their email. At this point, with the radio on, it's time to go to work. They can stop at the supermarket on the way home, see point-of-sale advertisements, and listen to Spotify on the go. After all, they can stream a TV program in the evening or surf the Internet on their mobile phone or tablet. This offers many potential touchpoints for a brand to reach consumers and deliver a consistent but not identical message.
Note that omnichannel marketing is slightly different from multichannel marketing. Omnichannel marketing requires seamless integration of your marketing efforts across your channels. For example, you won't use identical PPC ads across all your social platforms and bore consumers with repetition. However, their messages are not so different either that they might as well be separate campaigns. All of a brand's marketing to a customer coordinates and tells part of a larger story in a seamless and unified way.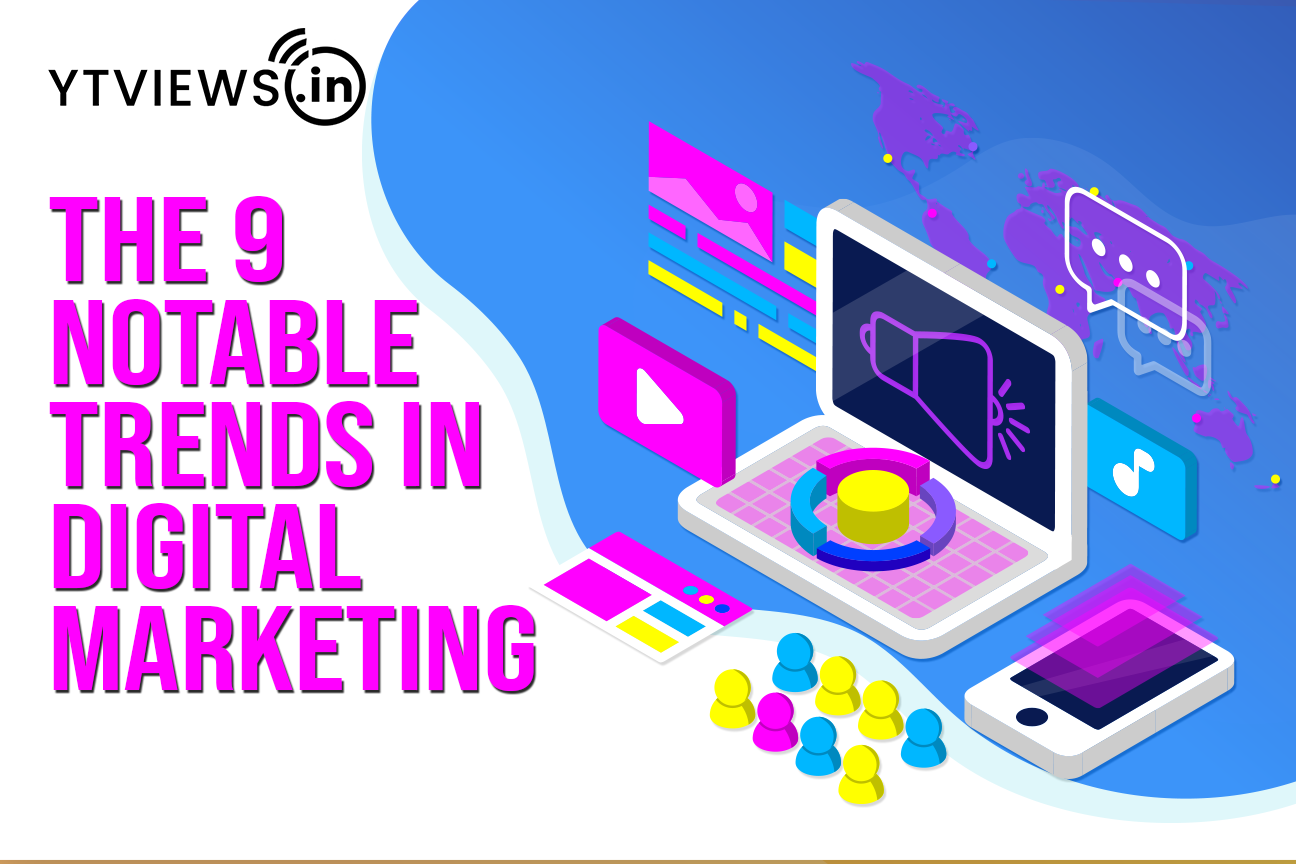 5. The Metaverse is starting to have a big Impact on Digital Marketing: In 2021, Facebook (the company) was rebranded as Meta. Given the size and influence of Facebook assets other than Facebook (the platform), it made sense to separate the platform and the company name. At the time of the rebrand, Mark Zuckerberg announced that the company would place its future on its Metaverse.
Bloomberg predicts Metaverse-linked exchange-traded funds could reach $80 billion in assets under management by 2024, with $600 million in annual fees. The metaverse includes live entertainment, social media, hardware, user-generated content, and technology infrastructure. It is a shared virtual space where megatrends converge. It includes a variety of virtual and augmented experiences. In the Metaverse, users create avatars and move through a 3D world, interacting with others and the environment around them.
The Metaverse includes platforms such as Roblox, Minecraft, and Fortnite. As people spend more time in the metaverse, the line between the real and virtual worlds becomes increasingly blurred. As a result, people are starting to discover brands and even buy virtual products. For example, Vans has partnered with Roblox to create a virtual skatepark. Here they could practice their virtual skateboarding skills and then buy Vans products without leaving the metaverse.
6. SEO adapts: Google rolled out a major Page Experience update in 2021. This update incorporated a new set of metrics known as Core Web Vitals into what Google traditionally calls "Page Experience". Core Web Vitals are the basic requirements for the technical health of a website. They effectively measure the user experience (UX) of a website and cover three main areas: loading, interactivity, and visual stability. These metrics measure how long it takes a user to get to your page, how easily the user interacts with it initially, and whether the user is confused due to inconsistencies in your page design. The Page Experience update combined the vitality of the basic web with more traditional factors like mobile-friendly, safe browsing, HTTPS (vs. HTTP only), and no intrusive interstitials.
Google also highlighted the importance of the "People Also Ask" section in its search results. It now appears in around 48.6% of searches, often well above the top position in a search. Therefore, as a marketer, you should include answers to common questions in your content.
You may have noticed that some of the more established pages on the Influencer Marketing Hub contain frequently asked questions. And Google is smart enough to select the appropriate answers, even if the wording of what people are asking is different from the exact wording on the page. So at the time of writing, for example, if you searched for "influencer marketing," our ultimate guide would be at the top of the list.
However, you'll notice that Google has also included a "People also ask" section and the first question is "What is an influencer marketing example?" Google has included an FAQ section in our article 15 Influencer-Marketing Examples to support planning your influencer campaign selected as the best answer to this question. However, if you look closely at the post, you can see that the real question in the FAQ is "Which brands use influencer marketing?" Despite the different wording, Google's algorithm is smart enough to recognize the similarity between the two detected questions.
Example of frequently asked questions~ In 2022, Google is focusing on user intent, rather than overreliance on the words they use in their searches.
7. Email Marketing is going Nowhere: Since email marketing is one of the oldest forms of digital marketing, it is perhaps inevitable that people have been predicting its demise for several years already. However, email marketing is in no hurry.
According to The Radicati Group, the total number of emails sent and received by businesses and consumers per day exceeded 293 billion in 2019 and is expected to grow to more than 347 billion by the end of 2023. then….3 billion of achievement time. Additionally, Litmus reports that email generates an ROI of $36 per dollar spent, higher than any other channel.
~ Email Advertising: However, personalization is now essential to successful email marketing. People have to sign up for email marketing and are very conscious of their privacy. That's why they don't welcome generic and irrelevant emails. They get a lot of emails every day DMR reports show the average office worker gets 121 emails a day — so it takes something special to entice someone to open your emails. By personalizing your marketing emails, you can improve their effectiveness. Some businesses are now using AI to create personalized and tailored emails for specific customers.
8. TikTok isn't just for kids: We've covered the rise of TikTok from the days when Musical.ly existed as a standalone platform. However, it has sometimes been difficult to convince brands that this is a legit social media platform. We regularly update our TikTok Stats article and have noticed how fast TikTok's popularity has grown.
If you still doubt the value of TikTok for serious digital marketing, consider some of these numbers:
~ TikTok Stats for Digital Marketers
~ TikTok users spend more than 850 minutes per month on the app
~ TikTok now has 1 billion monthly active users and 3 billion installs
It was the most popular iPhone app downloaded in the United States in 2021, ahead of YouTube, Instagram, Snapchat and Facebook. TikTok was the most popular overall app downloaded worldwide in 2020 and 2021. Like Facebook (and Instagram), TikTok now has a formal advertising marketplace, making it easy for brands to advertise on the platform.
And yes, TikTok is still the most popular among the younger generation, with 32.5% of US users aged 10-19, but the audience is gradually ageing. TikTok users don't seem to have grown off the platform any more than Facebook users have grown off that app.
9. Amazon's reign as e-commerce king continues unchallenged: Amazon remains the leader in e-commerce. Although the number of visitors to Amazon.com fell to 2.2 billion in February 2022, this only reflected fewer Covid-related lockdowns around the world, increasing choice for shoppers.
However, Amazon is not loyal to any brand other than its own. Virtually anyone can sell on Amazon, which opens up plenty of opportunities for brands looking to market online. Amazon Advertising continues to grow and is vital to the company's revenue. Amazon's advertising revenue surpassed $31 billion in 2021, three times 2018's advertising revenue. Amazon continues to refine its advertising platform to provide more options and data to improve its cost of advertising sales (ACoS).