Is it too late to get started on TikTok?
You may feel like you're out of your element when it comes to the platform, but all types of businesses can thrive on TikTok.
And while you may think you're late to join the party, there's still time to create a thriving TikTok presence for your brand. The great thing about TikTok is the most effective content is generated organically, meaning creating your videos can be done internally and without a large budget. More often than not, videos can be made entirely on your phone!
Here are some guidelines to consider when creating a TikTok for your small business.
Set up your TikTok account
Make sure you create a free business account for your company — rather than a personal TikTok — to optimize your brand's presence on the app. TikTok Business launched in 2020 as a way to provide large and small brands alike with marketing tools and metrics to increase their reach. Business accounts also have the option to run paid ads. Creating a business account is simple. Once you've answered a few questions about your brand, you're good to start posting videos!
A business account also provides additional perks as well like access to TikTok's commercial music library also known as the CML, which hosts over 500 songs you can use in your videos royalty free.
Figure out what type of content best connects with your audience
Now comes the fun part! Once you've set up your brand's TikTok, you can dive straight into creating content. TikTok thrives off of creativity, so there's no wrong or right answer when it comes to making videos. The most popular TikToks tend to be the most authentic and original.
While it's great to emulate certain brands, remember that every business is unique and what works for one company may not be the right direction for yours. There will be some trial and error as you figure out what content best suits your target audience, and that's OK! As you start making videos, you'll begin to understand which types of material is a good fit for your company.
Stay consistent
Once you've landed on the content you want to create try to stay as consistent as possible when posting on TikTok. Frequent posts will increase engagement and help your brand become memorable to consumers. TikTok's algorithm also favors accounts that produce a steady stream of content and have established themselves as experts within a certain niche, so make sure there's a common theme amongst your videos.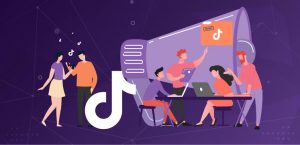 While it's totally okay to have different kinds of posts on your feed, some content will likely resonate more with your viewers. Once you figure out your niche, include the relevant hashtags to your TikToks.
Posting consistently can be easier said than done, especially when you're a small business owner wearing multiple hats.
Have fun and experiment!
Most importantly, remember TikTok as a platform is all about having fun! As you start out on your channel, be open to trying out a variety of videos and feel free to experiment with trending content.
TikTok is known for viral trends — like the pet #blanketchallenge — and keeping up with these moments can optimize your brand's exposure. Oftentimes, businesses can increase their reach by engaging with trending content.
Just remember, jumping on the bandwagon isn't always a good idea. Though capitalizing on certain fads may help your business stay relevant, your content should always connect back to your brand's core values and provide insight to your customers.
Hopefully this answered your question and showed that it's never too late to start a TikTok account for your business! Though the app may seem a bit daunting at first, TikTok is a great marketing tool that can further your brand's reach.