Guide to a perfect LinkedIn profile!
LinkedIn is the busiest platform for job hunters and recruiters. Certified recruiters spend the day trying to hire candidates just like you. All you need is the perfect profile and within no time, job offers come pouring in saving you so much time and effort.
But are you struggling to get job offers and recruiters to contact you? It is probably because you're missing something in your profile.
Remember that your profile is your personal brand, so never forget to update and optimize your profile from time to time.
Here are a few ways which will give a boost to your LinkedIn career!
1. Thoroughly fill your profile
Fill in as many sections LinkedIn allows you to fill. The primary reason for this is that LinkedIn shows the most filled-in profiles at the top of the search results to recruiters. So, you must be really talented but you haven't filled in your profile properly, this will automatically be a setback for you.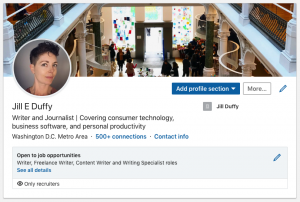 You can highlight the most buzzed words on your profile such as "specialized", "leadership", "experienced", "innovative" etc. although only using these words won't land you a job, you need to demonstrate them as well.
2. The perfect profile picture
Your profile will make the first impression, so make sure you get that right. It is a part of your personal brand thus take a recent picture with your face properly visible.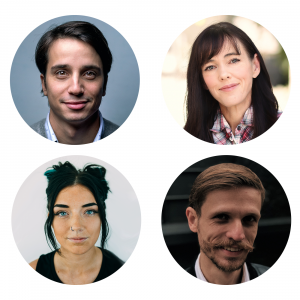 A few things to keep in mind are:
High resolution
Close-up shot, preferably a headshot
A neutral background
Not too serious. A slight smile on your face.
Professional but friendly expression
Wear something formal
And you're good to go!
3. The perfect Head-line
Pick a headline that portrays who you are and what you do in a concise way. Keep it short and include the keywords. By default, the headline is set to show your job title but that will not make you stand out.  Use words like "master" "experienced" which are heavily searched. It needs to have an X-factor that will catch the eyes of the employer.
4. The perfect Summary
It is important to fill in the summary properly as recruiters tend to check that out after your Head-line. Besides including your professional key points, be sure to mention your story like why you do what you do? Or how does your job make a difference to people? And why are you the best fit for this post?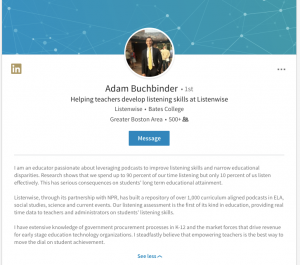 Job-related points to include:
Your experience in the field
Your relevant skills include some extra skills too
Relevant accomplishments
Your job titles
What are you looking for?
You may or may not include your hobby
This should do.
5. Mention all your previous works
Mention and highlight all your relevant works. Include the accomplishments and responsibilities. The experience section is the most important part of your profile so make sure you show off every possible piece of work you've done.
Include links to articles, blogs, or anything relevant. You can also mention your GitHub profile or any interesting project you've worked on.
Write it concisely and systematically, avoid long and irrelevant sentences.
6. Connect and network
LinkedIn allows you to connect with people, use that to your advantage and connect with people who have a good network. The more you connect the more your profile appears in their search results, this, in turn, increases your odds of landing an excellent job offer.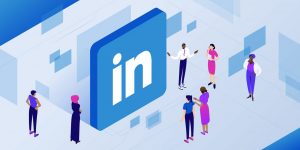 The best way to do it is to sync your profile with your email address book, you will receive suggestions on who you should connect with.
7. Recommendations
Note down all the people you have had a positive connection with and someone who appreciated your work, contact them, and ask for recommendations.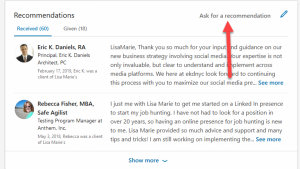 Recommendations are social proof of your work and step up your LinkedIn profile game. It is best to get recommendations directly from the management or you can just ask customers? Clients who appreciated your work.
8. Get and give endorsements
You can start by giving a few endorsements to people you really liked working with. Then connect and network to find people whose endorsements will be valuable to your profile, don't be afraid to ask politely for an endorsement. But be sure to ask only people who represent your field and are relevant to your profile.
Manage your endorsements, you can choose whether to hide or show every endorsement. Only show the ones that seem relevant to you and your niche.
9. The publication section
This is the most underrated section of LinkedIn, although filling in this section will make you stand out as very few people decide to fill in this part.
Have you helped a company write blogs, articles, or e-books? Then provide the links to those publications.
10. Be active, share and comment
Be active on the platform, share and communicate with people. Post-long-form content that helps you connect with other clients and recruiters. Evolving more will give you leadership abilities and improve your communications. Leave a comment here and there to establish your presence and indulgence in the field.
Final words:
Be creative and spend time building and optimizing your profile. Include your accomplishments, skills, interests, let people know that you are open to great opportunities and learning. Avoid typos, write concisely and with clarity, include all your licenses and certifications.
This was your guide to a killer LinkedIn profile, now it is up to you to use these tips to get job offers pouring!