10 Social Media Trends in 2023
People use social media as part of their daily lives, and businesses use it to reach customers. To prevent information overload, companies are creatively using social media to reach customers. Organizations can use social media marketing to promote their business and reach different generations on the right platform.
About 58.4% of the world's population spends an average of 2 hours and 27 minutes a day on social networks. There are many new opportunities to use social media in a variety of ways, including video, customer service and social listening. Keeping up with the latest social media and marketing trends can help businesses stand out in a world of digital overload and attract customers.
Here are some of the Top Social Media Trends in 2023:
1. TikTok will become bigger: In September 2021, TikTok reported more than 1 billion active monthly users and is still growing. TikTok is a must for businesses looking to reach a younger audience. It is one of the most important platforms to reach Gen Z and Millennial consumers. TikTok is also a good platform for businesses to advertise using short videos that are popular among the younger generation. In addition, TikTok has advertising and business profile tools to expand its platform.
2. Video content will continue to Dominate: According to Cisco research, 82 per cent of global consumer Internet traffic will be video content. But longer-form videos are losing popularity as more consumers turn to short-form videos like TikTok, Facebook reels, YouTube shorts, and Instagram reels and stories.
In addition, companies are turning to live streaming to connect with consumers. These videos may include storytelling, product demonstrations, event promotions, or sharing other corporate communications. According to Hootsuite, social media videos should be around one minute long.
3. Social e-commerce will continue to expand: Buying products directly from social media is becoming the norm. Social networks are becoming retail platforms with storefronts and points of purchase. In fact, according to Sprout Social, 98% of consumers plan to shop on social media. To create the perfect shopping experience, companies should focus on generating as few clicks as possible. This can be done by focusing on their most popular items rather than a full store.
Metaverse shopping is also growing in the social and e-commerce world. An example of this is the Roblox Forever 21 store, which allows users to purchase clothing that matches their avatars.
4. Augmented reality will become mainstream: Other technologies such as Virtual Reality (VR) and Augmented Reality (AR) will be combined with social media to enable greater interaction with customers. While VR adoption is still in its early stages, AR is now being used on Instagram and Snapchat to enhance shared photos.
For example, Snapchat uses AR in all of its photo filters to turn people into animals that appear to have makeup, sunglasses, or other changes to their appearance. But there are more AR apps than just photo filters. People can also try the products in advance. For example, consumers can see how the furniture fits in a room or try on sunglasses.
5. Influencer marketing continues to grow: Influencer marketing isn't new, but it's not going away. Social media is full of influencer brand promoters. Investing in an influencer may not be as expensive as other types of advertising or marketing campaigns, but it still pays off. According to a survey conducted by the Influencer Marketing Hub, 90% of marketers believe that influencer marketing is effective. LinkedIn is another social media platform that offers influencer marketing.
While LinkedIn and influencer marketing aren't usually associated, LinkedIn's Creator Accelerator, a program that helps creators build a community, shows they want to do more with creators and influencers. investments Leveraging influencers can help businesses do more than just generate leads. Influencers can also help increase customer engagement and increase customer loyalty.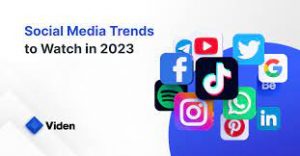 6. Customer Service is becoming a big part of Social Media: Social media is increasingly being used as a customer service platform as people realize that they can communicate directly with businesses. Customers ask questions or submit complaints, and the company responds.
According to Microsoft's Worldwide State of Customer Service report, 54% of global participants have a more favourable view of companies that respond to customer service complaints or questions on social media. Customers appreciate the importance of responding to messages.
7. More companies will use Social Listening: Businesses can gain insights and data from social media. Using social listening tools, businesses can listen to consumers.
Here are some Social Listening Tools:
~ Clarabridge
~ HubSpot
~ Lately
~ Sprout Social
~ Hootsuite
Social listening aims to monitor every conversation on social media and understand the reaction.
Social listening allows companies to understand campaign impact, brand perception and other insights into customer needs. First, businesses can see results in their social campaigns using brand mentions, relevant keywords, and business mentions.
Businesses can also use social media to help with crisis communication and listen to people on their platforms. Consumers expect companies to be transparent and honest during a crisis, with 61% of users saying brands should acknowledge moments of crisis when they arise, according to a Twitter survey.
Examples of crisis communication used in social media include grill manufacturer Weber. After the death of Meat Loaf singer Marvin Lee Adey, Weber published his cookbook of the day, Meatloaf. After a backlash on social media, Weber quickly emailed an apology, which customers shared online.
8. Local targeting will Grow:  Location targeting allows businesses to reach local consumers. A common way to find local people is to use geotags in your social media content to reach your target audience. Social media users can search for news near them, so be sure to include your location in your posts. For example, Instagram has a location search option. On Facebook, businesses can "zoom the post" and choose where to target to help narrow their reach.
9. Social Audio will continue to Grow in Popularity: While audio isn't new, its social media presence is. Audio uses only the human voice to reach the listener, allowing people to listen anytime, anywhere. The social audio app Clubhouse is popular in 2021, but its invitation-only requirements make it difficult for all businesses to use. But other platforms now only offer audio options. Facebook now offers features like Soundbits, Podcasts, and Rooms to support audio content.
Trends in the use of social audio include live events, voice messaging, music, live audio rooms and conferences.
10. AI will help create content: 2023 is a big year for artificial intelligence, with Forrester predicting that AI software will grow 50% faster than the overall software market. Businesses can use AI content generation software such as ChatGPT, CopyAI, and Jasper to create social media posts. AI can help with copywriting, but it cannot replace human writers with personalized, authoritative content. AI can help curate content by presenting or reformatting existing content for other media such as social media or email campaigns.
More businesses can use AI tools to make recommendations to improve user engagement, tailoring posts and headlines to reach target audiences. To speed up response times, companies may want to invest in a chatbot to handle some inquiries immediately or create a customer service knowledge base, or FAQ.